Broadcast News
15/12/2016
Timeline Television Completes Design & Build Of BT Sport's Home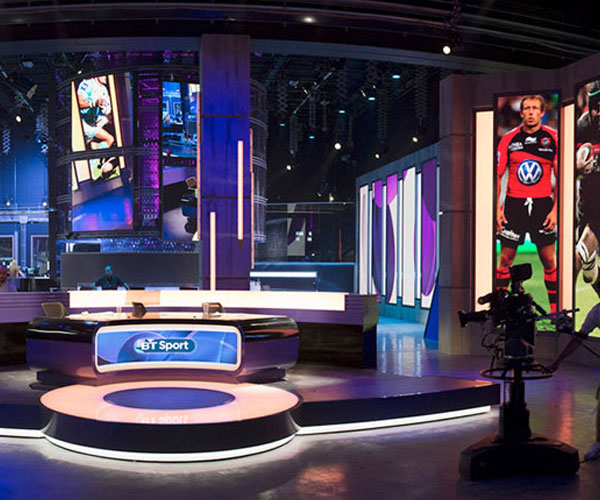 We were delighted to have been selected by BT Sport to lead on the transformation of part of the former International Broadcast Centre at the Queen Elizabeth Olympic Park, into the new home of BT's sports channels, BT Sport 1, BT Sport 2 and ESPN.
Working as a lead partner for BT Sport, managing the end-to-end design and build of the BT Sport production hub, including building infrastructure and broadcast systems integration, with services that went live in time for BT Sport's launch in August 2013.
Timeline Television project managed the IBC build to house three large fully flexible TV studios, sports production galleries, a master control room, 22 edit suites, dubbing theatre and an audience holding area. Having only gained access to the building on the 4th February 2013, the design, build and commissioning took just six months and is one of the largest and quickest broadcast installations in the industry.
Managed Service
Timeline Television was also awarded a five year managed service contract for technical operations including studios, MCR, post production and end-to-end workflow support. Timeline's team of engineers, technical operators and administrators keep the state of the art facility running 24 hours a day. Timeline also supplement their core staff with a comprehensive team of freelance editors, camera crew, lighting and vision crew, sound crew, studio floor crew and EVS operators to provide the full gamut of craft skills to BT's production teams and production partners where required.
The Studios
The three studios, provide agile space that can be operated collaboratively or independently as required for different production needs. A complex routing and control infrastructure allows the 24 Sony 2400 HD cameras channels and 32 radio microphones that have been installed, to work with any of the seven production galleries. Studio's 1 and 2 combined is one of the largest LED lit studios in the world.
Post Production
An end-to-end tapeless workflow, built on tightly integrated EVS, Harmonic and Avid technology has been implemented. 32 ports of ingest allow immediate access to incoming feeds in any of the 22 edit suites or on any of the 200 producer desktops. IP Director logging stations allow live feeds and rushes to be tagged with appropriate keywords and metadata. Production staff can browse the archive and live feeds, make playlists and send the content to a variety of destinations including the high end edit suites for finishing, TX for play-out, distribution partners or archive. In addition to the craft edit suites, there are eight voiceover booths, a dubbing theatre and a QC suite. The archived media is backed up at a standalone BT disaster recovery site.
Master Control Room
The Master Control room manages over 150 incoming and outgoing HD vision lines as well as inbound satellite traffic from BT's Madley earth station, one of Europe's biggest satellite earth stations, located in Herefordshire. This makes the BT Sport Production Hub one of the most connected buildings in Europe.
Dan McDonnell, Managing Director of Timeline Television, said: "The sheer scale and timeframe of this project has been an incredible challenge but we have worked closely with BT Sport to design and build a real state of the art and flexible broadcast facility matched to their exciting production ambitions. Our careful choice of suppliers and equipment manufacturers has enabled us to meet the tight deadlines."
Jamie Hindhaugh, Chief Operating Officer of BT Sport, said: "At the core of our new studios build is a spirit of collaboration that brings the best of industry – and sometimes competitors – working together toward a common aim: to make the BT Sport studios a world-class hub for the best ideas and talent. We believe talent attracts talent and our partnership with Timeline Television as a partner has helped us to foster that mind-set."
In August 2015, BT Sport launched 9 new channels including the first-ever Ultra HD channel, BT Sport Europe, BT Sport Showcase and six BT Sport Extra channels.
Timeline Television, BT Sport's managed services partner, has been a key part of developing the impressive BT Sport's Broadcast Centre system and facilities to allow for the simultaneous production of eight live games and the Goals show on Champion's League match days. This has involved additional production control suites, edit suites, expanding the CAR to allow for twice the nearline media storage capacity, adding Ultra HD switching and monitoring facilities, and doubling EVS live record and playback channels. All of this during a busy summer, with BT Sport on air 24/7 with the original three channels, BT Sport 1, BT Sport 2 and ESPN on BT Sport.
BT Sport, in partnership with RT, NCAM, MOOV and Timeline Television has integrated innovative technology to bring exciting augmented reality graphics to a new level; including an elegant solution to deal with the delays inherent with augmented reality, which allows the director the flexibility to work in real time.
This article is also available to read at BFV online.
timeline.tv
More Systems Integration Stories