Broadcast News
10/10/2016
GTC Celebrates Student Success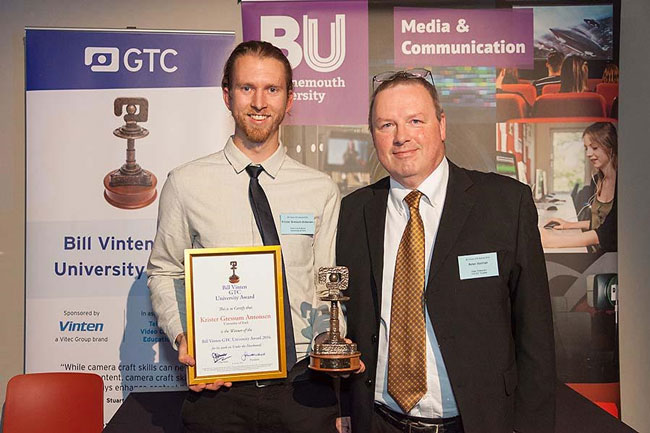 The work of the UK's best graduate film makers was celebrated at this year's Bill Vinten GTC University Awards.
The awards, which are now in their fourth year, gives judges the chance to see some of the best films produced by this year's graduates from cinematography and film and television courses across the country.
The event was sponsored by Vinten, in association with the Television and Video Camera Craft Educational Trust and hosted by last year's winners, Bournemouth University.
Entries for the competition are pre-selected by university lecturers as representing some of the best student work and then the judging stage identifies especially talented graduates. Last year's winner, Angus Mitchell, attended the ceremony and discussed his career since he won the the Bill Vinten GTC University Award.
Angus worked alongside GTC TiCA winner Martin Hawkins and the crew of ITV's
Broadchurch
. He then joined Sarah Putt Associates and Creative Skillset's trainee programme, which led to a job as a camera trainee on the latest
Star Wars
film. He then went on to do dailies on Steven Spielberg's new film
Ready Player One
.
Peter Harman, Head of Global Product and Sales Training for Vinten, presented one award on the night, along with the Executive Dean from Bournemouth University, Professor Michael Wilmore, and Stuart McKears, Chair of the Television and Video Camera Craft Educational Trust. The keynote speech was made by GTC Chair, Graham Maunder.
This year's overall winner was Krister Gressum Antonsen from the University of York, for his work on the film
Under The Floorboards
. According to one judge, Krister's work was "utterly professional at every level", while his craft skills were described as "mature", having a good mix of styles and demonstrating "very naturalistic camera moves".
A documentary,
A Match Made in Heaven
, took second place for Alexander Lines, also from the University of York, for his camerawork that was praised for its framing, creative use of focus and tracking shots that fitted the subject matter well.
Third place went to Tom Stibbs, Northern Film School at the Leeds Beckett University, for the film,
Conveyor
. Tom's camerawork was described as "stylish, consistent and unobtrusive" and praised for the way it followed the action with camera moves, focus pulls and sympathetic framing.
The Bill Vinten GTC University Trophy is for the university with the highest combined score for three films from different genres. This year, the accolade went to the University of Portsmouth and was accepted by Ben Thompson, Section Lead in Film and Broadcasting. Runners-up were University for the Creative Arts and Bournemouth University.
Krister Gressum Antonsen – University of York (with Peter Harman, Vitec Videocom and TVCCET Trustee).
www.gtc.org.uk
(JP)
Top Related Stories
Click here for the latest broadcast news stories.