Broadcast News
29/10/2014
Bill Vinten GTC Uni Award Winners Announced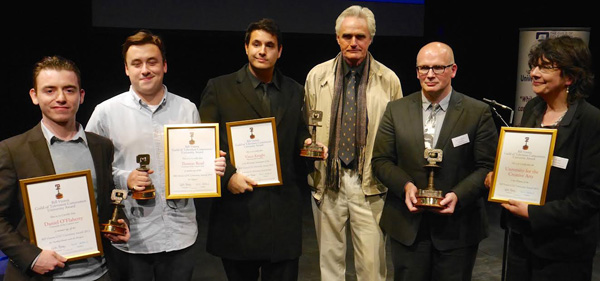 The winners of the Bill Vinten GTC University Award have been announced.
The University for the Creative Arts won the Bill Vinten GTC University Award Trophy at the event, held at the University of York's Heslington Studios on October 22, 2014.
Bill Vinten presented the award to the Vice-Chancellor of the University for the Creative Arts, Dr Simon Ofield-Kerr. He said: "It is a great honour and a great prize. I'm proud of the staff team from the School of Film and Media who have made winning this award possible for our students."
Course leader at UCA, Claire Barwell, who was at the event with lecturers Noski Deville and Chris Pinnock, added: "I had not prepared a speech so I missed the opportunity to say how close the values of the GTC are to what we try to teach our students – that the technical proficiency of the camera department must serve the story above all.
"I also particularly welcome the Bill Vinten GTC University Awards for recognising the importance of the craft skills in our teaching. Too often the reward and recognition goes to the directors and the films rather than the crew, so this award is especially important to us."
Vince Knight from Bournemouth University won the individual prize for his work on 'The Domestic Life of Mollusks'. Mr Knight responded: "Thank you for a great event, and what an honour it is to win the award."
He will be taking work experience with the production team and crew on the BBC daytime drama 'Doctors'.
GTC Chairman Keith Massey hosted the award ceremony, attended by GTC members, sponsors and representatives of the 11 competing universities. On hand to present the individual awards were judges GTC President Dick Hibberd, Karen Hall and Graham Reed. Judge Anna Carrington said: "The quality of student work this year was fantastic; all who entered should feel very proud of their work and what they have achieved."
Students and staff from the University of York recorded the event and helped with the screening and organisation, led by lecturer Patrick Titley. "It was a really useful exercise for the students to be involved in," said Patrick. "A great opportunity to work on a live event with all the pressure that involves."
www.gtc.org.uk
(IT/JP)
Top Related Stories
Click here for the latest broadcast news stories.