Broadcast News
28/11/2012
Vinten Celebrates A Decade Of Sponsorship For Charles Sturt University Students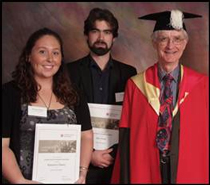 Vinten has marked ten years of funding scholarships for creative industries students at the Charles Sturt University (CSU) in New South Wales, Australia.
The globally recognised institution runs a Bachelor of Arts course in Television Production and awards scholarships to students through its Charles Sturt University Foundation Trust.
Vinten, a leading brand in the broadcast industry, has funded scholarships for the last decade, helping to build successful careers for a multitude of high performing students.
The University is a regional institution with multiple campuses across Western and Southern New South Wales, Australia, and internationally in Ontario, Canada.
The highly respected degree course, is offered at Charles Sturt University in Wagga Wagga and is one of the few in Australia with a focus specifically on television production. Scholars gain intensive hands-on experience using a range of industry standard equipment, including several of Vinten's innovative products.
The course alumni who have benefitted from Vinten's scholarship funding include several success stories with past students carving out careers with some of the biggest broadcasters in the industry. Graduates from the scholarship scheme have gone on to work in a range of television roles from freelance camera operators to appointments such as technical director at Channel 9 and editor at leading independent producer WTFN.
CSU says: "Vinten has made a valuable contribution to the University during the past decade and we are extremely grateful for the company's funding and dedication. Those students who have been awarded scholarships for the course have shown great appreciation by working tirelessly to reach their study and career goals.
"The course has built a global reputation for its excellence and is extremely competitive as the students are rewarded with the highest level of practical experience, spending three years training with our industry standard 'hands on' facilities. Alongside the theoretical content in the course, there is a strong professional emphasis and students continually produce television material for regular screening events and online broadcast to make them job-ready upon graduation."
The practical projects undertaken by the students are created in the University's well equipped studio, and include several products from Vinten's renowned range. The studio, OB truck and AV store at the University are home to eight Vinten pedestals including two from the Osprey range, seven Vision pan and tilt heads, and two heavy duty dollies and spreaders.
The Vinten scholarships are awarded annually during the CSU Foundation Scholarship Season. Recipients are selected following a specified assessment which tests students on their knowledge and competency of using a Vinten Studio Camera Pedestal. Two outstanding scholars who can demonstrate excellence in studio television camera operation using the pedestal are then chosen to receive the scholarships.
This year's Vinten scholarships were awarded to dedicated students Cal Wood and Natasha Cleary prior to the new term starting in September. The funds were very gratefully received by the two scholars.
Second year student, Cal Wood said: "My goal of becoming a professional camera operator is
now one step closer. Winning this award means that my primary skill as a camera operator will be improved by a broader understanding of crew roles in a studio."
Natasha Cleary added: "I would like to thank Vinten for providing me with this fantastic opportunity. The sponsorship means that I can continue my studies with ease and being awarded it has given me even more motivation to do the very best in my studies."
Vinten's contribution to the scholarship programme demonstrates the company's ongoing commitment to nurturing new talent and investing in the future of the industry.
Andrew Butler, Strategic Planning and Project Manager, Vinten added: "Our ten years of supporting CSU students reflect the outstanding work by the university in preparing world class camera operators. The scholarship scheme demonstrates our commitment to producing the industry's future talent, and we're proud that we have been able to contribute financially and through the students learning their trade using Vinten equipment in partnership with the university."
www.vinten.com
Top Related Stories
Click here for the latest broadcast news stories.