Broadcast News
01/09/2016
VDC Delivers For Euros Broadcast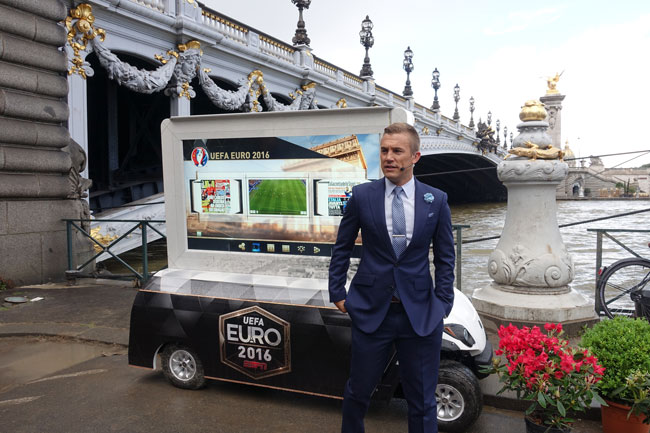 The Euro 2016 Football Championships in France demanded a large array of broadcast devices. SmartCart Technology Ltd was asked to supply one of their units by US Sports broadcaster ESPN.
The SmartCart is a 72-inch mobile high brightness interactive screen attached to a custom equipped cart for broadcast applications. To allow the broadcast studios to link to the unit, the company needed two 110 metre Pliosil fibre optic looms, each one with 2 x Opticalcon single mode quads and a 32 amp mains lead.
Gil Cowie, Managing Director, SmartCart Technology, said: "When we were asked to supply the SmartCart for the Euros, we needed the fibre looms at very short notice and VDC Trading was the only company which could help us. All the other broadcast suppliers quoted us three weeks delivery which would have meant missing the deadline. Adam Jafrabadi and team came up with the goods well inside the time. I have to say the ability to turn the job round under such pressure is a sign of their credibility and dedication to the needs of their customers. They saved the day for us."
The SmartCart SVX solution provides enhanced outside broadcasts which provides a presentation and analysis platform for remote production. The system is loaded with content and analysis, giving viewers greater event insight, clarity of information and more engaged access to their sporting heroes. It also enables viewers to have a greater sense of being closer to the action.
SmartCart Technology Ltd currently has operations in UK, Europe and USA with fully supported turnkey provision for Sports Broadcasters.
Adam Jafrabadi, Technical Manager, VDC, said: "Gil called me a week before he was due out to France for the Euro's looking for a OpticalCon power split system. Neutrik were quoting three weeks so we had no choice but to go down the pliosil loom route, not ideal but would get them out of trouble. I hate pliosilling at the best of times but we got there in the end. It was a frustrating job but not as frustrating as watching England!"
www.vdctrading.com
(JP/LM)
More Broadcast Equipment Stories