Production News
31/08/2016
'We Can Be Heroes' In Production At The Bottle Yard Studios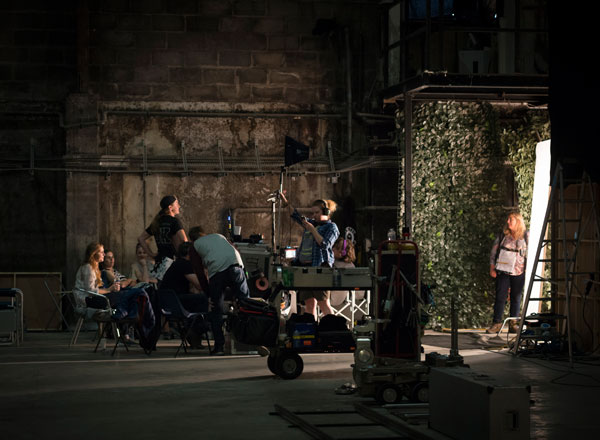 Filming has begun on a new family feature, 'We Can Be Heroes' at The Bottle Yard Studios, on site and in Bristol, Heroes Productions Ltd has announced.

Based on the best-selling young person's novel by Bath-based author Catherine Bruton, 'We Can Be Heroes' is the first full length feature produced by South Bristol-based Thomasina Gibson.

The Bottle Yard Studios is providing prop stores and build space for studio filming and the production is being run from the Studios' production offices. 17 days of location filming is being supported by Bristol Film Office at locations including Kings Head Park, Bishopsworth. They are also providing unit bases. 

'We Can Be Heroes' is employing 35 local creatives and crew out of a total of 41 and is engaging local trainees across their Costume, Sound, Lighting, Production and Location departments.

The 21 strong cast includes Alison Steadman and Phil Davis, both of whom are familiar with working in the West. Actors with local connections include Marc Danbury, Noni Lewis, Richard Sumitro (who graduated from University of Bristol) and juvenile lead Toby Haste from Taunton.

Additional SAs and background are all from Bristol and the surrounding area. Stunt director, John Sandeman, trained at the Bristol Old Vic Theatre School and lives in Central Bristol.

Thomasina Gibson, Producer said: "We chose to base 'We Can Be Heroes' at The Bottle Yards Studios primarily because they're local then simply because we felt they were best placed to service our needs in terms of location, costs, facilities and staff. The welcome from Fiona and her team has been amazing and the support from other on-site companies has been really encouraging. We're delighted to be here."

Fiona Francombe, Site Director of The Bottle Yard Studios, also nsaid: "We are delighted to welcome Heroes Productions Ltd to The Bottle Yard Studios and to be able to support them in their new feature film. We have built up a comprehensive range of on-site tenants to service productions based at our studios, so it's great to see these on-hand resources being used again by productions working on-site, as well as the talent and facilities from the wider Bristol region."

Natalie Moore, Bristol Film Office, added: "It's always exciting to have a feature film in the city especially one that is tapping into the local talent from crew to cast and extras, and to be able to support another production based at The Bottle Yard Studios with their location filming.  It really goes to reinforce the one stop shop that we have here in Bristol for film productions."

Bristol has a strong track record as a leading hub for film and TV production outside London. We Can Be Heroes is the latest production to be based at The Bottle Yard Studios and supported by Bristol Film Office. Others include, Crazy Face (in production), Golden Years, BBC One dramas  The Living and the Dead, Poldark and Sherlock, BBC Three Online Drama Thirteen, Sky 1 comedy Trollied, BAFTA-winning The Lost Honour of Christopher Jefferies and Emmy-nominated & BAFTA-winning BBC Two drama Wolf Hall.

Top Related Stories
Click here for the latest broadcast news stories.