Broadcast News
10/08/2012
BBC Studios And Post Production Confirms Interim Moves To Elstree Studios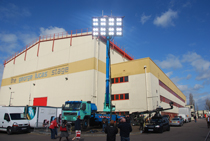 BBC Studios and Post Production, a commercial subsidiary of the BBC providing world-class television studios, post production and digital media services, today announced that from Spring 2013 it will provide TV studio services from Elstree Studios during the period while Television Centre is being redeveloped. Elstree Studios is near to the BBC Studios and Post Production's existing facilities at BBC Elstree, where they currently make EastEnders as well as shows for ITV (Odd One In), Sky (A League of Their Own) and other broadcasters and independent production companies.
Last month BBC Studios and Post Production confirmed it will lease new state-of-the-art studio production space in the completed Television Centre scheme from 2015. This will include returning to a brand new Studio 1 at the new production centre, currently the home of shows including Strictly Come Dancing and Children In Need.
The arrangement with Elstree Studios includes BBC Studios and Post Production investing in the Elstree Studios complex and offering a mix of fully equipped high-definition television studio spaces. Between the two studio complexes at Elstree Studios and BBC Elstree, BBC Studios and Post Production will be able to offer a range of studios and stages for television production: BBC Elstree's Studio D at 11,200 sq ft, which includes integrated audience seating, Elstree Studios' fully HD equipped Stages 8 and 9 each at 7,500 sq ft, and use of the famed George Lucas Stages at 15,600 sq ft each – as well as additional studio spaces, production and post production areas and offices as required. The BBC Studios Television Centre HD technology will be temporarily relocated to Elstree Studios, allowing the company to continue to provide its production services while away from Television Centre.
BBC Studios and Post Production will continue to offer a wide range of post-production services, including SD, HD and 3D editing, high-end effects and sound. Their Digital Media Services business which preserves re-masters and manages content will relocate to a dedicated and permanent home in West London around the start of 2013.
Clive Hodge, Interim CEO for BBC Studios and Post Production said: "Our mix of studio facilities located at these two well established complexes at Elstree provides an excellent working solution for our customers while Television Centre is being redeveloped. Our expert technical, creative and project management staff will all be moving with us and we'll be investing in both Elstree Studio sites to ensure we continue to provide our clients with the range of services and experience they have come to expect from us."
Roger Morris, Managing Director of Elstree Studios said: "This arrangement with BBC Studios and Post Production will make Elstree Studios the number one destination for television production in London. We are already the home to Dancing on Ice, Who wants to be a Millionaire?, Big Brother, and this year The Voice, Red or Black and various other major television shows. Now having the expertise, management and technical resources of BBC Studios and Post Production working with us, combined with the significant investments we are both making in the Studios, I cannot imagine a better offering in the facilities market place for television producers. It's a very exciting opportunity for both of us."
www.elstreestudios.co.uk
Top Related Stories
Click here for the latest broadcast news stories.