Production News
31/03/2016
Comedy Heist Golden Years Set For The Big Screen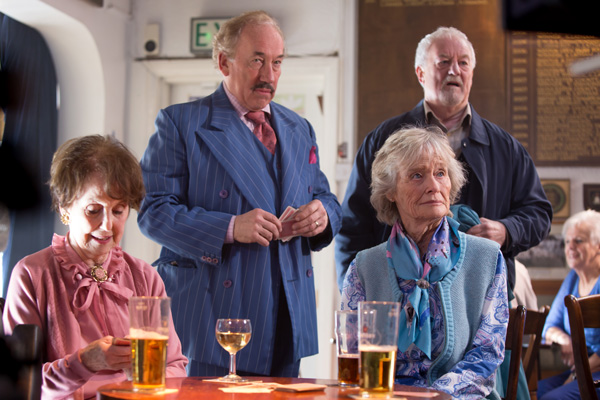 Golden Years, written by TV presenter Nick Knowles, Jeremy Sheldon and BAFTA award winning writer/director John Miller, filmed at The Bottle Yard Studios and across Bristol facilitated by Bristol Film Office, will be released in cinemas across the UK from April 29 2016.

MoliFilms Entertainment based the production at The Bottle Yard Studios production offices and filmed in purpose built sets in Tank House 2, using local crew. The feature also filmed across Bristol with the support of Bristol Film Office who scouted and sourced locations including banks and private homes, and facilitated filming in the centre around Corn Street / Clare Street and at The Ardagh Sports Club bowling green. In excess of 100 extras were recruited via their social media platforms and they coordinated various unit basis throughout the city including Redcliffe Wharf and Horfield Common.

John Miller, writer and director said: "The temptation for so many film projects is to run the well-trodden route to the studios and facilities of London. From the start I was adamant that we would film Golden Years in Bristol using local talent and the fantastic facilities on offer here for film makers.

"I'm passionate about Bristol as a city to both live and work in and was keen to prove to London based MoliFilms that Bristol not only has everything needed for feature film but that it also can do it at a very competitive rate. Good old Bristol didn't disappoint.

"The Bottle Yard Studios are getting quite a name and having worked there I can understand why. They have great studio space on offer at very reasonable prices and Fiona and her team know exactly what a production needs to make things run smoothly. They could easily accommodate our unit base and we were able to set up our production offices on site just minutes away from we were filming in one of the huge tank houses. With the lighting company 180° Rental, plus grips and props and scene building all on site you don't have to go anywhere else.

"All round great experience, we'll be back! Bristol has such a diverse range of locations within a small area which make it very attractive to film makers. In order to capitalise on them we worked closely with The Bristol Film Office. We couldn't have made it without the help and invaluable knowledge of Natalie and her team. They are so well connected and willing to help that they should be the first port of call for any production looking to film in and around the area."

Fiona Francombe, Site Director of The Bottle Yard Studios, added: "We were thrilled to host the production of Golden Years at The Bottle Yard Studios and to add another feature film to our catalogue. John Miller, who is from the region, is well known to us from his work on Andy's Prehistoric series for CBeebies and it was a pleasure working with him again and to see local crew employed across the production. It's another endorsement of the creative talent pool in the South West and further cements Bristol's reputation for film production and its strong infrastructure."
Top Related Stories
Click here for the latest broadcast news stories.