Production News
17/05/2016
Bristol Celebrates Successful Filming Year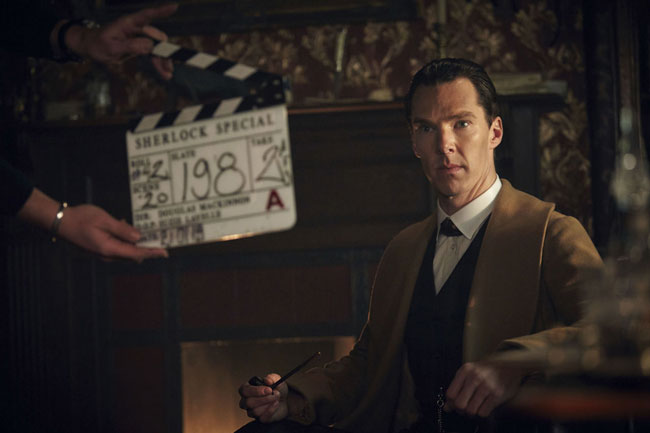 Newly-released figures from Bristol Film office reveal it has been another successful year for film and television production in the city. For 2015/16, there has been a 65% increase in location filming days.
Throughout the period, Bristol Film Office and The Bottle Yard Studios supported a number of productions, from returning TV shows to new original shows, as well as various feature films.
The city of Bristol welcomed the return of BBC drama Doctor Who for its 2015 Christmas Special, plus series 2 of Poldark and BBC Three's The Living and the Dead. Sky 1's first full series of Agatha Raisin was also filmed in Bristol.
Elsewhere, 2015 saw the return of Sky 1 comedy Trollied for its fifth season and Christmas Special, while ABC's Galavant returned for a second series. CBeebies' show Andy's Prehistoric Adventures also returned.
As for the big screen, five low- to mid-budget features used locations, crew and facilities throughout Bristol. The projects included the upcoming Another Mother's and Son and Access All Areas.
Turning to awards, a number of Bristol-made drama entries were recognised at the 2016 RTS West of England Awards. The Lost Honour of Christopher Jefferies took home five awards, as well as three awards at the 2015 BAFTA Television Awards and two 2016 RTS Programme Awards.
Wolf Hall, a BBC period drama set during the reign of King Henry VIII, also scooped two awards at the 2016 RTS West of England Awards. At the 2016 Golden Globe awards, Wolf Hall also secured the accolade for Best TV Limited Series, and for Best Drama and Best Actor (Mark Rylance), at the 2016 BAFTAs. The show was also awarded a 2016 BAFTA Craft Award for both Sound and Editing.
In addition, Poldark won a number of awards voted for by the general public, including the 2016 BAFTA Radio Times Audience Award.
For 2015/16, Bristol Film Office issued 370 filming permits and hosted a total of 943 location filming days – 65% more than 2014/15). The total inward investment to Bristol from productions using services provided by Bristol Film Office and The Bottle Yard Studios reached £16,674,000.
Welcoming the announcement, Laura Pye, Head of Culture, Bristol City Council, said: "I'm delighted to see Bristol's continuing success as a filmmaking hub. These new figures show a consistently strong level of production and once again the services provided by Bristol Film Office and The Bottle Yard Studios have delivered an outstanding contribution to the local economy. Both the Film Office and the Bottle Yard Studios play an important role in raising the city's profile within and outside of the film industry. This is a golden age for Bristol based drama and the city's heritage as a centre of excellence for TV and film goes from strength to strength, powering employment and skills development, and attracting investment that are is vital to the creative and cultural heartbeat of the city."
Natalie Moore, Bristol Film Office, added: "The figure of £16.7m is fantastic and reinforces the value of the robust services we offer the film and TV industry locally, nationally and internationally, from crewing and location advice to logistical support. Bristol has an enduring reputation as a popular filming destination, with its iconic landmarks and breadth of locations; we continue to attract high end productions. Although recent years have seen a trend in period set production in the city, this year saw more modern productions also choosing to shoot in Bristol, utilising the abundance of striking urban locations and cityscapes, contributing to the increased number of location filming days.
"The year ahead promises to be another busy one with both new and returning productions confirmed to be shooting in Bristol. We are also looking forward to seeing many Bristol-made productions hitting the big and small screen including Series 2 of Poldark (BBC One), Agatha Raisin (Sky 1) and the new drama The Living and the Dead (BBC One)."
Fiona Francombe, Site Director, The Bottle Yard Studios, commented: "It is excellent to see the new figures which reflect the importance of The Bottle Yard Studios and Bristol Film Office to the city. Now in our 6th year, it's wonderful to experience a high number of return productions, and expanding their studio footprint, which stands as an endorsement for the facilities we offer, the diverse range of services to hand from our on-site tenants as well as the highly experienced talent pool from the wider filming infrastructure in the city and ease of access to wide ranging filming locations.
"We are looking forward to another outstanding year welcoming more productions than ever before. This brings exciting challenges and to meet the growing demands for space we will be looking at developing currently unused areas of the site. In addition we will be making a big push on sustainable practices with a particular focus on alternative sources of power and how we can generate our own electricity."
www.filmbristol.co.uk
www.thebottleyard.com
(JP/MH)
Top Related Stories
Click here for the latest broadcast news stories.