Broadcast News
10/08/2016
PlayBox Technology Announces Full Production Version Of CloudAir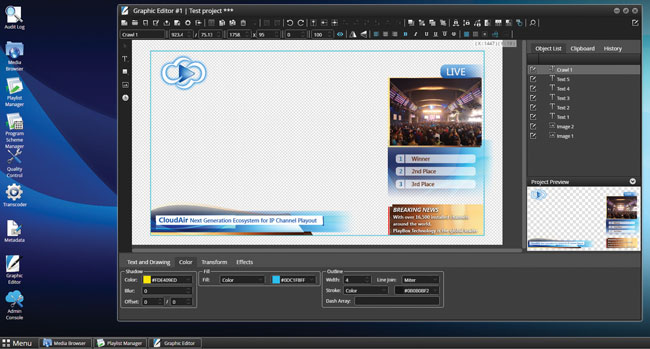 At IBC2016, Stand 8.B71, PlayBox Technology will showcase a full production version of CloudAir. Initially introduced at IBC last year, CloudAir is based on the concept of virtual playout, and simplifies the process of delivering a new television channel on air.
Don Ash, president, PlayBox Technology, explained: "Most virtual playout offerings and nearly all graphics applications require dedicated processing electronics or other hardware to be available on the cloud server. CloudAir is totally software-centric and able to provide full-scale playout with graphics on any enterprise-class blade, rack or tower server. Once the software is installed, no auxiliary hardware is required at all. This is an ideal structure for third-party service-providers. Virtual playout frees broadcasters from the need to possess, operate and maintain their own hardware. The savings in space and operating overheads can be substantial, especially for channels located in urban centres where business premises and staff both come at a premium.
"CloudAir is a development of the EdgeBox remote playout concept which is used by many broadcasters around the world. Core software running on a proven server is located at the broadcaster's choice of remote playout centre, typically a 24/7 service provider in whichever town, city, country or continent the broadcaster prefers. Management of programme schedules, ad sales, media management and monitoring are all performed in the usual way on the broadcaster's premises, usually at its headquarters, via a fire-walled IP link."
"Available on a software-as-a-service basis, CloudAir allows a 24/7 channel to be up and running in far less time than is needed for traditional server-plus-software or dedicated hardware systems," added Pavlin Rahnev, CEO, PlayBox Technology. "Once a broadcaster is settled into this mode of operation, a new channel can be activated within minutes. This level of flexibility also makes virtual playout an ideal basis for transient content streams such as 'red button' channels created to provide supplementary information during a specific programme series or outside broadcast event.
"Integral to CloudAir are templates which customers can preconfigure to match their requirements, eliminating any need for subsequent manual interference. Flexibility is equally vital. Every clip in a playout schedule, except the one which is currently playing, needs to be accessible for trimming, editing or repositioning. CloudAir gives operators the freedom to change playlist order on the fly using commands such as skip-to-next or jump. Changes can be performed seamlessly without stopping the current playout session."
"When funded by the client as an operational-expense service, virtual playout frees a channel owner's investment capital to meet the overheads of originating, acquiring or refining content. It additionally offers broadcasters a basis for very cost-effective, space-efficient and reliable disaster-recovery. When specified correctly, CloudAir allows cloud-based ingest, quality-control, title graphics, clip trimming, playout, backup and disaster recovery to be achieved all-in-one via the cloud," Rahnev concluded.
www.playboxtechnology.com
(JP/LM)
Top Related Stories
Click here for the latest broadcast news stories.