Broadcast News
26/07/2016
Vinten Scholarship Winners Unveiled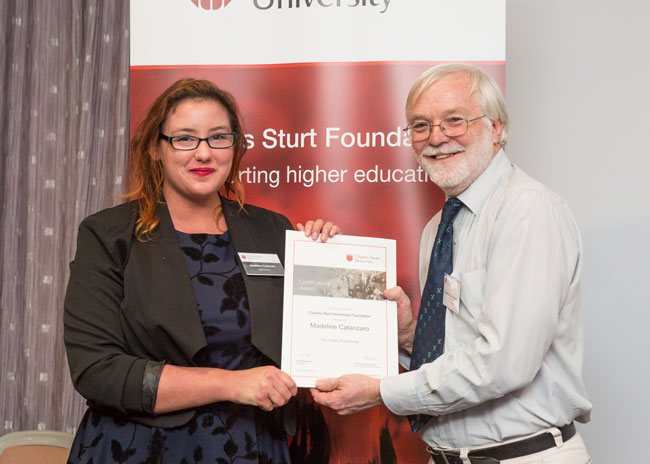 The winners of this year's Vinten Scholarship have been announced at the Charles Sturt University (CSU) in News South Wales, Australia.
Vinten has donated funding to the CSU Trust for the past 15 years. The Trust helps support and encourage the next generation of filmmakers. This year, students Madeline Catanzaro and Cameron Davies received the scholarship after demonstrating their passion and hard work in the Bachelor of Arts course in Television Production.
Accepting the scholarship, Catanzaro said: "My family has always been incredibly supportive of my goals and dreams, but has never been able to support them financially. They've watched my passion for film and television grow over the years and, now, with this next stepping-stone, they can hopefully see me learn and thrive within my course and future career. I can broaden my perspectives and spend less time worrying about money, focus more on my studies, and invest in equipment that I've never really had access to before. It was as if a great pressure had been lifted and I saw a whole realm of new possibilities, so thank you to everyone at Vinten."
The studio at CSU enables students to develop and refine their practical skills with a variety of Vinten's products, including eight pedestals, seven Vision pan and tilt heads, and two heavy duty dollies and spreaders. To test the students' knowledge and competency, one of Vinten's studio camera pedestals is operated for a portion of the scholarship assessment process.
"I know these students personally and both are passionate about their craft, but what moved me was their sincerity, integrity, and the knowledge that they will make excellent Vinten ambassadors," said Bruce Gater, Lecturer in Television Production for the School of Communication and Creative Industries. "There are so many winners over the years that have gone on to bigger and better lives. Who knows what they would be doing without Vinten's help."
The Vinten Scholarship is awarded annually during the CSU Foundation Scholarship Season.
www.vinten.com
(JP/LM)
Top Related Stories
Click here for the latest broadcast news stories.