Broadcast News
06/12/2019
Vinten & Autoscript Solutions Support Sky News Australia Broadcasts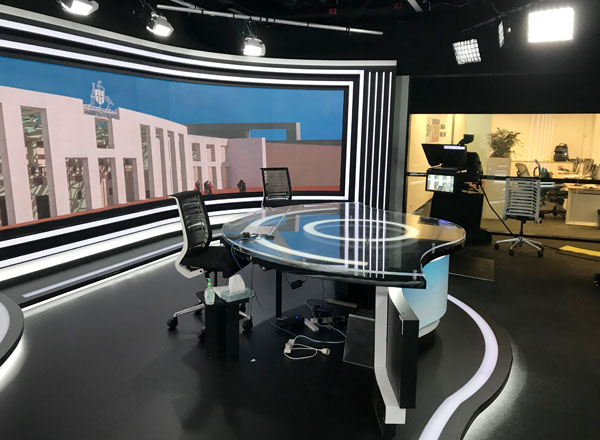 Sky News Australia has fitted out its six remote studios throughout the country with new solutions from Vinten and Autoscript.

The 24/7 multi-channel network installed state-of-the-art robotic camera support systems from Vinten and Intelligent Prompting solutions from Autoscript to educe operational costs through centralised, IP-based control of remote broadcasts.

With headquarters, master control, and main studio based in Sydney, the network operates remote studios in Canberra, Adelaide, Perth, Melbourne, and Brisbane.

In the newest project, Sky News has fitted out its Canberra Parliament House studio with three Vinten FH-145 robotic pan/tilt camera heads, driven by the Vinten HD-VRC control system, three Vinten Quattro pedestals, and three Autoscript EPIC-IP 19" prompting monitors with integrated talent feedback monitors, driven by Autoscript WinPlus-IP News prompting software. Amber Technology, a Vitec Production Solutions Premier Partner, supplied the Vinten and Autoscript solutions and is partner for the build-out.

"Cost is a significant factor in today's television production environment," said Rick Zecevic, chief technology officer, Sky News Australia. "By allowing us to control all of our remote studios from Sydney, IP-based networks and technologies like those from Vinten and Autoscript are playing a huge role in helping us operate as cost-effectively as possible. At the same time, we have the flexibility of local control at each location when the need arises."

Zecevic added: "The Vinten robotic heads and pedestals, coupled with Autoscript's prompting solutions, are a perfect choice because of their outstanding remote-control-over-IP capabilities, renowned reliability and performance, and advanced features. Plus, Amber Technology is providing us with outstanding local support throughout the process."

With the completion of Sky News Studio 1 in Sydney, all six of the network's studios will be fitted out with robotic heads from Vinten and pedestals working in concert with Autoscript Intelligent Prompting solutions.

"Sky News Australia is already reaping the benefits of lower overhead and operational costs since implementing our cutting-edge Vinten robotics and Autoscript prompting systems, which can be remotely controlled over an IP network with minimal local operator involvement," said Tom Pavicic, regional sales manager for Australia and New Zealand, Vitec Production Solutions. "The ability to reduce costs while increasing quality is an ongoing goal for so many of our broadcast customers, and leveraging state-of-the-art robotics and prompting technologies, particularly within IP-based workflows, is allowing our customers to achieve this goal, just as we've seen with Sky News."
Top Related Stories
Click here for the latest broadcast news stories.