Broadcast News
13/06/2016
Successful BroadcastAsia2016 For PlayBox Technology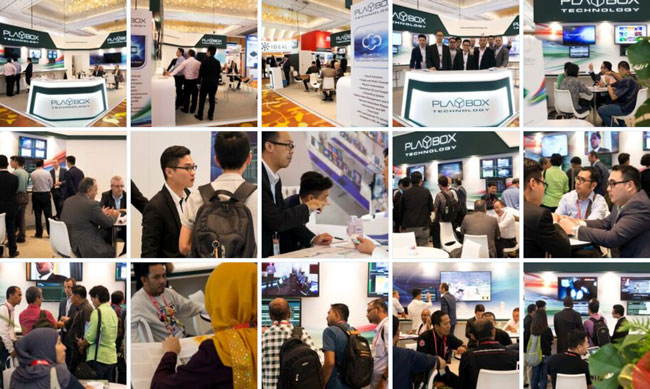 PlayBox Technology has reported a successful response to its PlayBox Neo suite, as well as its CloudAir playout solution, at BroadcastAsia2016. The two solutions were introduced to the APAC market at the show.
At the centre of PlayBox Neo is the AirBox Neo playout server. It has been designed for 24/7 unattended operation, but can be operated manually, including handling live-to-air throughput. AirBox Neo supports UHD, HD and SD in single server. Optional software modules available for AirBox Neo include CaptureBox Neo, SafeBox Neo and TitleBox Neo.
CaptureBox Neo allows HD or SD content to be captured from up to four video sources simultaneously, which can be monitored on a single screen and controlled via a streamlined user interface with enhanced multichannel control and operability.
SafeBox Neo replicates remote content to local playout server folders for safe transmission. It implements a new graphic interface, as well as faster processing for moving primary or copied content to the playout and central storage servers. A new workflow routine protects content against unauthorised deletion.
TitleBox Neo provides a range of interactive on-air graphics and titling capabilities which can be manipulated live. It also includes substantial improvements for dealing with UHD projects, plus support for HD and SD operation.
The cloud-based playout solution CloudAir, meanwhile, enables a new television channel to be established in seconds. It is designed for anyone who wants to broadcast TV content, be it on a real-time round-the-clock basis, a catch-up facility, the red button element of a reality show or a short-running series such as a sports event. It can empower new or existing programme streams wherever and whenever they are needed, in SD, HD or UHD. The solution is available on a software-as-a-service basis, and is able to provide true playout with graphics on any enterprise-class blade, rack or tower server.
Don Ash, president of PlayBox Technology, said: "With nearly 17,000 trade attendees from 126 countries, BroadcastAsia this year came well up to expectations. We fielded a ten-strong team of specialists from our sales and support offices within the APAC region and from our global headquarters. I am happy to say they were kept busy on all three days of the show. Visitor levels to our stand, both in number and in terms of the purchasing power they represented, were very high.
"BroadcastAsia provided a useful opportunity to share our development roadmap with key customers as channel managers consider their options for the coming transition to higher display resolutions and wider dynamic range. The latest-generation Neo version of our highly successful PlayBox broadcast playout system gives broadcasters total freedom to prepare and deliver content in standard definition, 2K high definition and 4K ultra-high definition. In the APAC region as well as other countries, sports broadcasters are spearheading the adoption of 4K. We can accommodate 4K UHD right now. More importantly for the majority of channels around the world, playout in all three resolutions can be performed from a single PlayBox installation."
Pavlin Rahnev, CEO of PlayBox Technology, added: "APAC broadcasters also recognise the inherent versatility and the accountant-friendly strength of our new CloudAir offering. CloudAir allows new channels to be added to an existing broadcast operation on an extremely flexible basis. Once CloudAir is installed, it makes no demands in terms of onsite hardware as it can be securely controlled from an IP-connected desktop computer regardless of distance. CloudAir is also an ideal platform for playout service providers looking to expand their business offerings on an easily scalable basis. We also demonstrated to BroadcastAsia visitors the speed, ease and efficiency of CloudAir as the framework for a disaster-recovery facility."
Image: PlayBox Technology's stand at BroadcastAsia2016.
www.playboxtechnology.com
(JP/LM)
Top Related Stories
Click here for the latest broadcast news stories.