Broadcast News
10/05/2016
Increased Demand For Vidcheck's QC Solution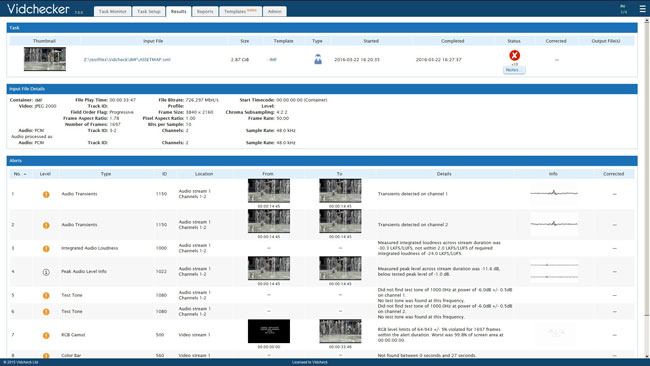 Following the recent NAB Show 2016, Vidcheck has reported an increased demand for its automated quality control technology.
"Consumers are becoming increasingly keen on viewing television over portable devices, particularly in which America which pioneered the introduction of smart phones and tablet computers," said Vidcheck CEO Thomas Dove. "Multi-platform viewing has in turn accelerated the transition from discrete-media to file-based workflow."
At a Vidcheck-sponsored event during last month's NAB, the North American Broadcasters Association (NABA) and UK-based Digital Production Partnership (DPP) announced a strategic partnership to promote the international exchange of content through the definition and implementation of common specifications, to benefit the wider broadcasting industry.
Through joint NABA and DPP meetings, nine of the major North American broadcasters – ABC/Disney, Bell Media, CBC/Radio-Canada, Fox, HBO, NBCUniversal, PBS, Time Warner, and Turner – have agreed to a common file format, structure and wrapper based on the AS-11 UK DPP specification implemented in Britain in 2014.
The North American transition will start during 2016 and continue into 2017 with various networks taking delivery of content to these specifications on a selective basis.
"Vidcheck is ahead of the curve," Thomas Dove added. "We were already demonstrating on our booth templates that allow Vidchecker users to test and deliver to the NABA/DPP specification immediately. File-based automated quality control with Vidchecker creates opportunities for greater efficiency, allowing an existing ingest and QC department to process far more content than could possibly be handled manually. The resultant savings in time and cost will become increasingly evident in today's increasingly competitive broadcast market. This has already been proved by the large number of Vidcheck customers worldwide, both in mainstream broadcasting and postproduction, and by our increasing number of third-party partners.
"Interest in our latest Vidchecker V.7 software was particularly strong. This includes a raft of new capabilities: automatic correction of luminance flashes known to cause problems for people prone to photosensitive epilepsy; automated error correction; automatic video segment detection; advanced validation of Interoperable Master Format (IMF) metadata and essence; multi-lingual alerts; transparent attenuation of audio peaks; and transcoding to a pre-defined in-house file format regardless of input format. The Vidchecker V.7 upgrade is available free to existing customers holding current Vidcheck software maintenance contracts, and to Vidcheck OnDemand licensees."
Also introduced at the 2016 NAB Show was Vidcheck OnDemand which is designed for use by television content producers, content owners and broadcasters. It is aimed at high-volume users and will be available within an efficient operational-expenditure framework. Vidchecker OnDemand licences can be deployed across a public cloud, such as Amazon Web Services or Azure, or across virtual machines forming an on-site private cloud. Vidcheck OnDemand is not merely scalable but has a variable scale driven by user demand. Its burst mode allows customers to employ elastic computing to accommodate practically any scale of workflow.
Designed for checking and repairing file-based video, audio and related metadata before and after distribution, Vidchecker is also used by broadcasters to ensure that the metadata, video and audio parameters and levels of media files received from post-production companies and content owners are correct for general transmission. Vidchecker provides a server-based alternative to checking conformance by eye and hand. It can automatically and intelligently correct video and audio levels, including peak audio attentuation, and perform automatic video segment detection. Sub-SD, SD, HD, UHD, 4K, 8K and mixed workflows are supported. Alerts can be accessed in practically any language. The Vidchecker GUI is accessed through a web browser either on the local machine or remotely over a network. Automated error correction options mean that detection and correction can be combined in a single uniquely powerful application.
Vidchecker-post is a version of Vidchecker designed for low-volume users such as postproduction houses, content distributors and smaller broadcasters who do not have the file-testing throughput requirements of larger companies. It intelligently corrects video luma, chroma and RGB components, and conforms audio peak and audio loudness levels to ATSC/CALM and EBU requirements.
Image: IMF status information displayed on the Vidcheck Task Monitor graphic user interface.
www.vidcheck.com
(JP)
Top Related Stories
Click here for the latest broadcast news stories.