Broadcast News
09/08/2016
Vidchecker Updates To Be Demonstrated At IBC2016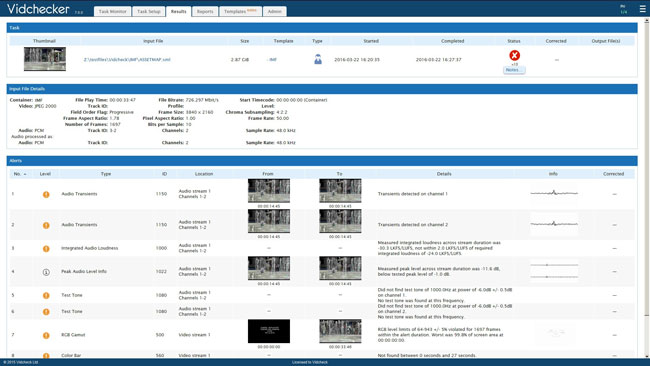 At IBC2016, Vidcheck will showcase the latest version of Vidchecker, as well as the opex-licence-based Vidchecker OnDemand.
There will also be a new version of the Vidcheck Advanced Media Player (Vamp) on display. Vidchecker comes with its own player to show content that has been tested or corrected. Vamp guides users through any alerts raised as part of the automated QU process. Alerts are displayed along a timeline representation of the content. From here, the user can navigate to each alert in turn or randomly jump through scene by scene. Navigation is via standard industry transport controls.
By adding a hardware graphics output card, it is possible to take an HDMI or SDI output from a workstation to a second monitor. As well as playing out the video and audio, Vamp's main features include timeline display of video keyframes and all audio track, location and description details of all alerts from Vidchecker/Vidfixer auto QC, file metadata display and audio codec details for each track.
Other additions to Vidchecker include automatic video segment detection; advanced validation of Interoperable Master Format (IMF) metadata and essence; multi-lingual alerts; and peak attenuation.
Most of the new Vidchecker features will also be available on Vidchecker-post. The key difference is that Vidchecker is the faster of the two applications, capable of testing and correcting multiple files simultaneously. The automated error correction options being introduced to Vidchecker mean that detection and correction are combined in a single application.
Joe Newcombe, Global Sales Manager, Vidcheck, said: "Vidcheck has a wealth of experience in providing cost-effective and easy-to-deploy solutions that perform compliance for a wide range of delivery standards. The latest version now incorporates a template for the AS-10 file format. Chosen by French broadcasters, AS-10 is designed for transmission of LongGOP MPEG-2 video and PCM audio. It is essentially the format used for XDCAMHD, carrying content in an OP-1A wrapper. Our support for AS-10 demonstrates Vidcheck's sustained agility in responding both to evolving technology and specific national requirements."
www.vidcheck.com
(JP/LM)
Top Related Stories
Click here for the latest broadcast news stories.