Broadcast News
23/03/2016
Vidcheck's Vidchecker Embraces IMF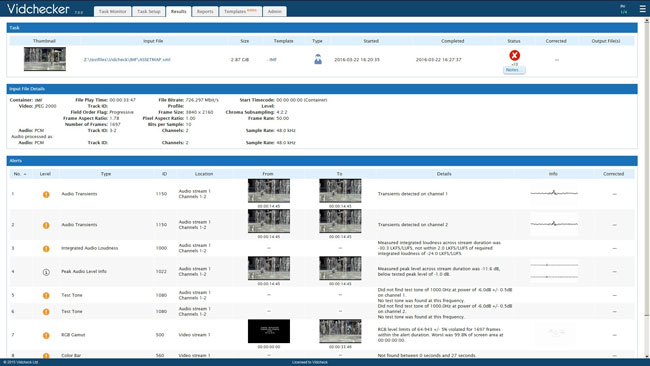 Vidcheck has announced an expansion to its Vidchecker and Vidchecker-post automated quality control software with the addition of new features for checking Interoperable Master Format (IMF) metadata and essence.
"IMF is a highly versatile file format with huge potential throughout the broadcast media business," said Howard Twine, COO, Vidcheck. "I liken it to a cooking recipe delivering ingredients that can be combined in different ways to create variations on a central theme. Imagine that the IMF payload contains the right ingredients to make several types of omelette. One specific user or delivery platform may require say a ham omelette. The automation system on the receiving end then cooks the vital elements into the specified dish. Vidchecker alerts the cook if the ham or the eggs are missing, well before the customer places an order.
"IMF can accommodate a much larger amount of metadata than earlier-generation MXF files. A single IMF package can contain all the necessary video, audio, graphics, closed captions and metadata elements needed for worldwide reversioning. It greatly reduces the workload required to produce multiple self-contained master program files. For example, delivering a video-plus-overdubbed-audio file for a large number of language regions creates a huge amount of point to point data traffic. An IMF package can do this with much greater efficiency by carrying a single relatively large video file plus audio tracks for each required language. Related elements such as titles and credits for various regions and be handled in a similar way to reduce unnecessary repetition of data delivery. All can be stored in the IMF files as separate assets and combined when required.
"We have now enhanced Vidchecker and Vidchecker-post to check all this data and draw attention to any potential operational issues. Any problems detected in programme essence or the metadata container are clearly displayed on the user interface."
Developed around the SMPTE ST 2067-2 standard, IMF has already progressed to Application 2e (SMPTE ST 2067-21) which supports images up to 4K frame resolution plus high dynamic range. Application 2e is already being used by Netflix as an OTT service delivery format.
Vidchecker and Vidchecker-post with IMF metadata and essence processing will be introduced and demonstrated by Vidcheck at the 2016 NAB Show, booth SL5625.
Image: IMF status information displayed on the Vidcheck Task Monitor graphic user interface.
www.vidcheck.com
(JP/MH)
Top Related Stories
Click here for the latest broadcast news stories.