Broadcast News
30/09/2015
Vidcheck Announces 2015 Top Reseller Award Winners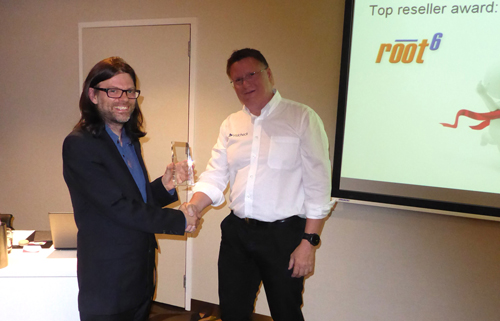 Vidcheck has announced the winners of its 2015 Top Reseller and Top New Reseller awards.
The presentations were made during a Vidcheck Reseller Event at the Crowne Plaza hotel in central Amsterdam during the buildup to IBC2015.
"Root6 has lived up very well to its reputation as one of the most experienced suppliers of technology to the UK broadcast, film, post-production and new-media communities," Vidcheck COO Howard Twine said.
"The Root6 team has shown an outstanding level of understanding of the Vidcheck product range and its role within modern content creation, refinement and playout systems. Root6 has excellent demonstrations skills and is consistently active in promotion and marketing.
"DVE Cross Media has worked tirelessly to open doors into the very active and quality-conscious German film and television market from its base in Munich. The quality and extent of the company's liaison with customers has proved outstanding, augmented by efficient feedback of relevant technical information to our support team. DVE Cross Media has also proved efficient in the essential areas of publicity and sales development."
During the well-attended meeting, Vidcheck resellers were briefed on the latest trends in television - related industry investment.
"In countries where the transition from standard definition to high definition broadcasting has peaked, the focus of customer attention is moving increasingly to file-based workflow and content management, automation, product virtualisation, cloud services and software-defined networking," stated Vidcheck Executive Chairman Graham Pitman. "These are all categories in which Vidcheck solutions (Vidchecker, Vidchecker-post, Vidfixer and Vidfixer-post) have much to offer."
On the IBC2015 show floor, Vidcheck demonstrated four major new software enhancements introduced over the past year. Among the new facilities added at each stage were:
• Support for HEVC H.265 (ultra-high definition) and 16-channel audio, user interface improvements, report enhancements and API enhancements (Version 6.1).
• UK DPP certification and updates, PSE updates and certification, user notes for individual alerts, custom report names, Apple iTunes and Netflix audio enhancements, networked reference files, and API versioning (V6.2)
• MXF generic metadata tests, ARD/ZDF and DDV2 NPO templates, PSE flashing correction (Vidifixer), user interface enhancements, audio-only decode mode and DNxHD mixed data rate detection (V6.3).
• Apple Pro-Res re-encoding  (V6.4).
Introduced at IBC2015, Vidcheck's OnDemand for both Vidchecker and Vidfixer, gives the first ever full operational-expenditure model for automated quality control. OnDemand options include 'pay-as-you-go' and fully scalable processing, cloud-based or local.
vidcheck.com
Top Related Stories
Click here for the latest broadcast news stories.