Broadcast News
18/02/2015
NUGEN Audio Reveal Upgrades At NAB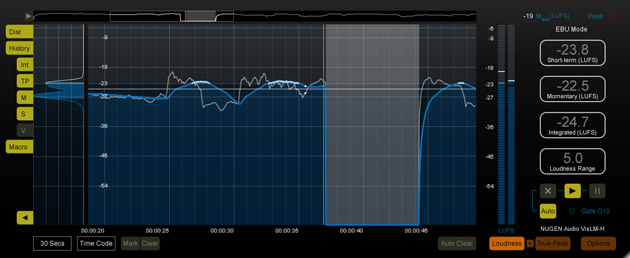 NUGEN Audio will appear at this year's NAB show to demonstrate the latest in its range of post-production and broadcast loudness tools.
An upgrade of the company's loudness measurement and correction suite, Loudness Toolkit 2 includes new versions of the VisLM-H meter, the LM-Correct quick-fix tool, and the ISL true-peak limiter. The VisLM-H visual loudness meter includes ReMEM (rewritable memory edit mode), a program loudness over-dub function for enhanced workflow efficiency; a new timecode and loudness profile memory function; and new zoomable and scrollable history and log file capabilities.
ISL enhancements include a new intelligent dynamic release Mode, extensive user interface workflow and display enhancements and advanced variable center channel link settings. Also in the Loudness Toolkit 2, the LM-Correct loudness measurement and correction tool now includes single-click analysis and correction to accelerate workflow for every seat; enhanced processing criteria; and a new provision for combined program and short-term or momentary loudness correction.
NUGEN Audio is also making its DynApt dynamic adaptation technology available as a time-saving extension for LM-Correct, enabling streamlined LRA targeting.
At the 2015 NAB Show, NUGEN Audio will preview its new Halo Upmixer. Designed specifically for film and TV production, the new product is capable of producing a Stereo-to-5.1/7.1/9.1 downmix-compatible upmix with optional dialog isolation in the center channel. The Halo Upmixer is expected to be available in the second half of 2015.
"These new innovations have come from extensive development and consultation with the post-production community," said Jon Schorah, Founder and Creative Director, NUGEN Audio. "We have spent the past decade providing solutions that give clients total confidence in meeting stringent film and television delivery guidelines. At this year's NAB Show, we're pleased to demonstrate the effectiveness of Loudness Toolkit 2. Certainty is essential when dealing with loudness compliance, and these radically new time-saving workflows and state-of-the-art compliance tools will help our clients stay even further ahead of the curve on international loudness requirements."
www.nugenaudio.com
(IT/JP)
Top Related Stories
Click here for the latest broadcast news stories.