Broadcast News
04/03/2014
HHB Launches BVE Debuts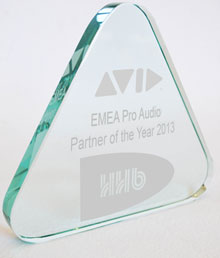 HHB's stand at this year's show saw the UK debuts of Avid S6, NUGEN Audio MultiMonitor and TC Electronic's broadcast sound products.
Avid S6
Visitors to the HHB stand at this year's show became the first in the UK to view the S6 control surface and get in-depth demonstrations of the console, to highlight the many ways it offers a new level of control for Pro Tools and other DAWs. The S6 leverages the best of industry leading ICON and System 5 families in a revolutionary new modular design. From extensive visual feedback to an integrated touchscreen, S6 provides a truly immersive experience in an array of pre-configured formats, or as a bespoke system.
The company was also awarded Avid's Pro Audio Partner of 2013 award in Europe, the Middle East and Africa (EMEA) for excellence in Pro Tools sales and support in the region. Avid Pro Audio Sales Manager - EMEA North - Ben Nemes said: "HHB and Scrub are an extremely talented group of people and one of Europe's most knowledgeable Pro Tools specialists. From leading post houses to world renowned recording studios and broadcasters, HHB is relied on for technical and sales support by Europe's biggest Pro Tools users. We are very happy to honour them for their outstanding services."
HHB Group Sales Director Steve Angel said: "Avid is always at the cutting edge of professional audio technology and we are very pleased to be recognised as leaders in the field. Our team of dedicated Pro Tools specialists are revered by the industry as a trusted source of support for Avid's range of Pro Tools systems. We will continue to provide the high levels of support that our customers have come to expect with new Pro Tools systems like the S6 console."
NUGEN Audio's new MultiMonitor
is a powerful and versatile software application that offers up to 16 individual loudness and true-peak meters to monitor mono, stereo, and 5.1 formats for up to 96 individual audio channels.
This standalone software is available for both PC and MAC and provides flexible, real-time monitoring in full compliance with global loudness regulations and standards.
At this year's show, HHB highlighted the powerful features of NUGEN's loudness plug-in bundles. The NUGEN Loudness Toolkit and the Complete Loudness Solution are comprehensive plug-in collections offering loudness metering, logging, correction and more. These carefully selected bundles offer a significant discount over individual product pricing. The NUGEN LMB: Batch Processing Loudness Correction Tool, an off-line file-based loudness analysis and correction program, was also on display.
Jon Schorah, Founder and Creative Director, NUGEN Audio commented: "Broadcasters throughout Europe are grappling with loudness compliance, which includes understanding where and how to integrate loudness tools in the broadcast chain. As the premier broadcast industry forum in the UK, BVE 2014 offers a prime opportunity for us to demonstrate how NUGEN Audio's solutions can help assure loudness compliance without affecting the creative process of producing high-quality audio."
HHB Director of Sales Martin O'Donnell added: "From ITV to Fox and The Farm Group, our customers are very impressed with the benefits that NUGEN Audio plug-ins provide in meeting international loudness standards. These feature rich applications offer extremely accurate loudness metering and correction and we are very excited to share this technology with visitors at BVE."
As the exclusive distributor for
TC Electronic's
broadcast audio and production products in the UK and ROI, HHB introduced three new TC products at BVE.
The company launched the new TC Electronic Reverb 8 algorithm for the highly-acclaimed System 6000 audio processing platform, an unbalanced AES I/O option for the DB6 Broadcast Audio Processor and a new Loudness Quality Logger (LQL) for TouchMonitors during the show.
Reverb 8 for System 6000 offers up to 16 reverb output channels of ultra-realistic reverbs and is capable of feeding any input signal, from mono to stereo, and 5.1 or 7.1. It delivers an infinite number of output channels, making it perfectly suited for Dolby Atmos (up to 62.2 surround), Barco Auro (11.1 surround) or NHK's multichannel broadcast format Super Hi-Vision (22.2 surround). Multiple System 6000 MKII frames can be linked in a network, offering reverb for virtually any channel-count.
The addition of 16 channels of unbalanced AES I/O to the DB6 Loudness Management Processor gives broadcasters the tools to pass an entire SDI signal through a loudness management system, or to route only the audio signal through an insert point in their system. This is in addition to DB6's state-of-the-art upconversion, downmix and lip sync.
Thomas Valter, VP of Business Management for Broadcast & Production at TC Electronic said: "Integrating DB6 to an existing transmission system at an insert point is a flexible option to have and it will surely suit some stations better than an SDI-only solution.
"We're happy to provide this option with DB6."
The LQL (Loudness Quality Logger) program, designed by RTW as a tool for logging, true-peak data analysis and reporting, is now also compatible with the TC Electronic TM7 and TM9 TouchMonitors. Offered as a free download for customers with a logging licence, LQL collects data directly from a TouchMonitor via an IP-connection or from external storage media such as a USB stick.
HHB Director of Sales Martin O'Donnell said: "We are very excited to debut these new products alongside TC's already exceptional broadcast sound range. We are taking a strong focus on loudness at BVE and TC is a world leader in the field. DB6's new AES option and the LQL function for TouchMonitor adds even further value to what are already exceptional products."
hhb.co.uk
(IT/CD)
Top Related Stories
Click here for the latest broadcast news stories.