Broadcast News
16/10/2014
Media Group International Builds Children's Radio In UAE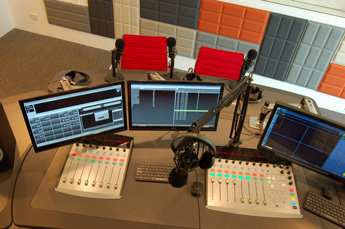 S.I. Media Group International has built a new radio station for the Children's Media Network (CMN) in the U.A.E.
The project, which took three weeks to complete, involved designing and installing two radio studios and a back-up studio that doubles up as a production facility when not being used for live broadcasts. MGI also installed server rooms where live broadcast material can be stored for up to 60 days.
MGI MD John Aslett said: "This was an incredibly exciting project to be involved with because we were helping CMN make history. There has never been a dedicated children's radio station in the Middle East and we are very proud to have played a key role in making this happen."
Based in Dubai, CMN works to establish a multimedia platform for children, and aims to provide a support network for parents as well as a number of local and international family events.
The initial idea for CMN came about 20 years ago when founding partner Jeff Price was working with Great Ormond Street Hospital Radio in the UK. Mr Price was inspired to join forces with Nick Watson, who champions children's health awareness campaigns in the U.A.E.
Earlier this year CMN was appointed to launch and manage PearlFM, an English and Arabic language radio station specifically for children and their families.
"Charged with launching a radio station, we recognised that we needed specialist help to install the technical infrastructure," says CMN's Jeff Price. "We chose MGI for this project because the company has a reputation for delivering world-class broadcast solutions. As part of our remit is to allow children to present some of our programmes, we needed tough, durable equipment that is also easy to operate.
"MGI gave us excellent advice and helped us choose equipment that was ideally suited to our needs. They also worked exceptionally fast to complete the radio station and gave us great service and support throughout."
Equipment includes Clyde Broadcast Synergy Master Control systems that have been installed in all of the studios. These are complemented by RCS play out systems; microphones from Clyde Broadcast, Shure and Beyerdynamic; Sonifex delay units and a range of production and control software from various manufacturers.
PearlFM launched in October 2014 with a live broadcast from the Al Jalila Cultural Centre for Children in Dubai. Catering for children up to the age of 12, the station will present a wide variety of interactive radio programmes that combine music with discussion topics.
CMN plans to launch a sister station, LuluFM – the first all Arabic radio station for children. Ultimately, CMN plans to expand within the Middle East, Europe and Asia by developing its Radio, Television and online brands.
www.mgi.tv
(IT/JP)
Top Related Stories
Click here for the latest broadcast news stories.