Broadcast News
02/07/2021
South African Radio Station Boosts Sound With Calrec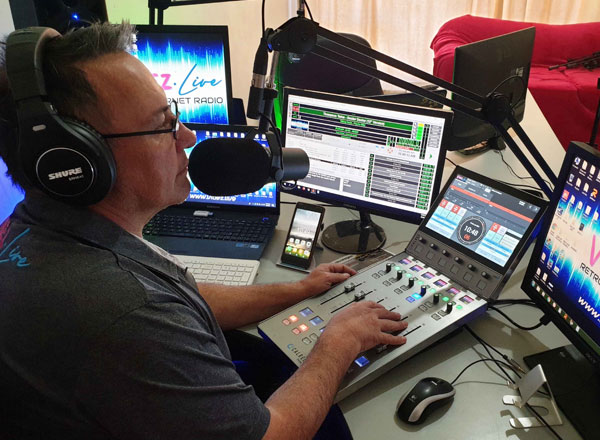 A South African internet radio station has called on the power of Calrec's Type R for Radio to help boost its sound quality.
Vibez.Live made a move into the digital realm, investing in a six-fader, AoIP-based Type R with dual layer functionality, which gives it extra faders at the touch of a button. The station also added a Type R large soft panel with feature sets pre-loaded for more control.
John Badenhorst, Co-Founder and a Host at Vibez.Live, said: "Having used a variety of equipment for the first 18 months after we launched, including an analogue desk, we knew that we needed to upgrade to enhance our capabilities. We spoke to Wild & Marr about Calrec's AoIP-based Type R for Radio system and were immediately impressed. While the Type R core has enough I/O for our current needs, we also purchased a Type R analogue I/O box that provides an additional 16 mic/line inputs and six general purpose input/output interfaces."
Dwaine Schreuder, Broadcast Engineer at Wild & Marr, commented: "We saw an opportunity to partner with Vibez.Live and supply them with the upgrades they needed to put them in a streaming league of their own. The console has a whole host of benefits and keeps installation simple. With its ethernet connection, it does away with cumbersome cables found in conventional studios."
The Calrec Type R has a simple layout and a clear touch screen display. The sleek, compact design fits perfectly into the Vibez.Live studio environment, taking up less space while doing the job of a much bigger desk. Vibez.Live also uses two pairs of Shure SRH840 headphones, two Shure SM7B microphones and On-Stage's microphone boom arms. All levels are now easily managed and compressed, which was previously challenging.
"There's a lot of competition in the radio market for both traditional and streaming stations, and the sound quality can't be compromised. Type R for Radio's versatile attributes, such as being able to add more fader panels via a simple ethernet connection, puts Vibez.Live firmly in control. We're so delighted the station is able to connect with audiences on a greater level," added Graham Murray, International Sales Manager, Calrec.
The deal was overseen by Calrec's South African partner Wild & Marr.
calrec.com
Top Related Stories
Click here for the latest broadcast news stories.