Broadcast News
17/09/2014
HHB Debuts TC Electronic's aNorm At IBC2014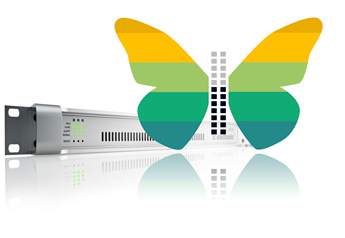 HHB Communications hosted the world debut of the new aNorm loudness algorithm from co-exhibitors TC Electronic at IBC2014.
TC Electronic's aNorm normalisation algorithm provides loudness adjustment features for user-defined Targets for Program Loudness and Loudness Range (LRA). Complementing aNorm is the new Butterfly Processing Meter that offers both graphical and numerical displays of Program Loudness and Loudness Range parameters at all stages of the process. The aNorm algorithm and Butterfly Meter are part of the new LoudnessWizard II license for TC Electronic's DB6 Broadcast Audio Processor.
"We are proud to offer second-generation loudness normalisation and new loudness processing metering to all audio-conscious broadcasters," says TC Electronic's Thomas Valter, VP of Business Management, Broadcast & Production.
"aNorm adapts seamlessly to your content to achieve a transparent result where delicate production balances aren't washed out. It is also easy to use, and it even leads to new transition processing never before possible."
HHB also showed a range of TC Group products, including the new TC Electronic Loudness Pilot for loudness compliance with dual-stereo or dual-mono audio, the System 6000 Integration plug-in and the latest Dynaudio Air Control loudspeaker software.
Loudness Pilot provides control in a fit-for purpose device that employs True-Peak metering and is fully compliant with all major loudness and broadcast standards. Both SDI and AES versions (balanced or unbalanced) are available.
The newly released System 6000 Integrator plug-in is a complete integration solution for the System 6000 processor that allows users to save and reload settings as part of almost any DAW/NLE project via Ethernet. Changes to presets can be automated during playback, making full use of all four of System 6000's processing engines.
Air Control offers configuration, calibration and installation software that delivers control of loudspeaker parameters. Setups and presets can be saved to a PC or MAC via a touch-compatible user interface.
www.hhb.co.uk
(IT/JP)
Top Related Stories
Click here for the latest broadcast news stories.