Broadcast News
19/09/2014
TC Electronic Introduces 'aNorm' Loudness Solution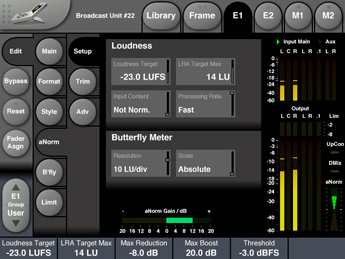 At this year's IBC, TC Electronic introduced 'aNorm', a new solution for loudness adjustment that learns the incoming program on the fly and adapts seamlessly to hit user-defined Targets for Program Loudness and Loudness Range (LRA).
TC Electronic also debuted a new Loudness Processing Meter as part of aNorm: The Butterfly Meter. The interface displays content pre and post loudness normalisation using a graph that provides an overview of how and why incoming audio is adjusted. Both the Program Loudness and Loudness Range parameters are reflected visually – not just as numeric values.
Thomas Valter, VP for Broadcast & Production said: "We are proud to offer second-generation loudness normalisation and new loudness processing metering to all audio-conscious broadcasters.
"aNorm adapts seamlessly to your content to achieve a transparent result where delicate production balances aren't washed out. aNorm is also easy to use – It even leads to new transition processing never before possible."
The new aNorm algorithm and loudness processing meter – the Butterfly Meter – are part of the new LoudnessWizard II license for TC Electronic's DB6 Broadcast Audio Processor.
DB6 comes with the original LoudnessWizard that covers loudness correction, upconversion from stereo to 5.1, downconversion from 5.1 to stereo and lip sync delay. The new, optional LoudnessWizard II license applies the adaptive aNorm algorithm to handle loudness correction and processing metering, while still offering up/down-conversion and lip sync delay.
www.tcgroup.tc
(IT/CD)
Top Related Stories
Click here for the latest broadcast news stories.