Broadcast News
16/09/2014
Square Box Systems Launch CatDV for Adobe® Anywhere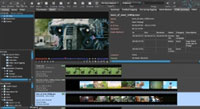 Square Box Systems have announced CatDV for Adobe® Anywhere for video, a powerful new product supporting the Adobe Anywhere real-time collaborative editorial platform, at IBC 2014, 12-16 Sept, Amsterdam (Hall 7.J15C).
CatDV for Adobe Anywhere makes CatDV's powerful media management features available to the Adobe Anywhere platform, enabling content to be shared seamlessly by Adobe Anywhere productions, and supporting a huge range of efficient production workflows. The new product builds on the long-term, robust technology integration between CatDV and Adobe that has already enabled Adobe Premiere® Pro CC editors to maximise creative productivity for many years.
"CatDV is the ideal partner application for Adobe Anywhere, as the versatile, streamlined integration helps to leverage collaborative creativity and maximises highly-efficient production workflows," said Dave Clack, CEO at Square Box Systems. "CatDV's ease of deployment and scalability have greatly complemented Adobe's media technology products as they have gone from strength-to-strength. The latest CatDV software release provides seamless sharing of CatDV media content with the Adobe Anywhere platform."
Simon Williams, director of strategic relations at Adobe, said: "Adobe Anywhere, with its ground-breaking production capabilities that enable true collaboration, and CatDV, which solves the perennial problem of finding materials, make for a compelling combination."
Adobe Anywhere provides a production environment with all content centrally managed and streamed over a standard network. Users do not need local content, or even to know where content is located. Harnessing the powerful search, preview, tracking and media management features of CatDV, content can be seamlessly shared and managed in Adobe Anywhere productions directly from CatDV, or via a CatDV control panel that is integrated within Adobe Premiere Pro CC.
Adobe Premiere Pro CC is included in Adobe Creative Cloud® along with the most up-to-date versions of other favourite Adobe desktop apps, such as Photoshop® CC, After Effects® CC, Illustrator® CC, and more.
The rich feature in CatDV allows new Adobe Anywhere projects to be initiated, and CatDV assets can be added to an Adobe Anywhere production from CatDV desktop and Web clients, as well as Adobe Anywhere and Adobe Premiere Pro CC.
www.squarebox.com
(CD/JP)
Top Related Stories
Click here for the latest broadcast news stories.