Broadcast News
12/09/2017
Square Box Systems Unveil New CatDV Panels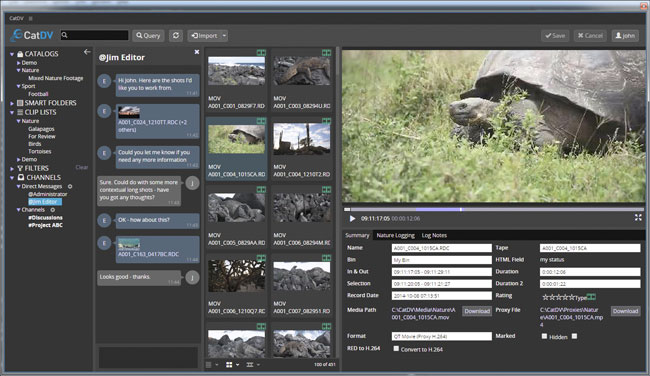 Square Box Systems has announced the release of an Advanced version of its Adobe Premiere Panel. In addition, the company has also unveiled a new Adobe After Effects Panel.
Both panels, which will be demonstrated on stand 7.J38 at IBC2017, are designed to enhance the creative process for Adobe Creative Cloud users that need to access and work with assets managed in CatDV.
The company's original Adobe Premiere Panel enabled any user of a CatDV media asset management system to log in and search the CatDV database, as well as browse production groups and catalogs from within Adobe Premiere. The new Advanced and After Effects versions include keyboard navigation, quick previews, and robust user interfaces that present media, a player, and metadata all within the same panel. Other new tools include a frame-accurate player, the ability to update metadata (for example, to kick off a restore from an archive), and the capability to handle more metadata fields when exporting content to Premiere or After Effects.
"With these new panels, customers can bring CatDV assets into their Adobe workflows and streamline a broad range of asset management tasks. They can find and reuse a broad selection of media content — rough cuts, movies, stills, and effects — quickly, without having to leave the creative tools they're accustomed to," said Dave Clack, CEO, Square Box Systems. "With capabilities such as fast audition and preview of content, a frame-accurate media player, and the ability to initiate automations for tasks such as restoring from archive, the new panels save time, reduce costs, and promote collaboration and communication."
Square Box Systems will highlight the new Advanced Adobe Premiere Panel and Adobe After Effects Panel on stand 7.J38 at IBC2017. More information about Square Box Systems and CatDV
Image: Square Box Systems' New CatDV Panels for Premiere and After Effects Streamline Adobe Creative Cloud Workflows.
www.squarebox.com
(JP/LM)
Top Related Stories
Click here for the latest broadcast news stories.