Broadcast News
26/04/2018
Really Creative Media Collaborates With Cassius Creative For Dua Lipa Tour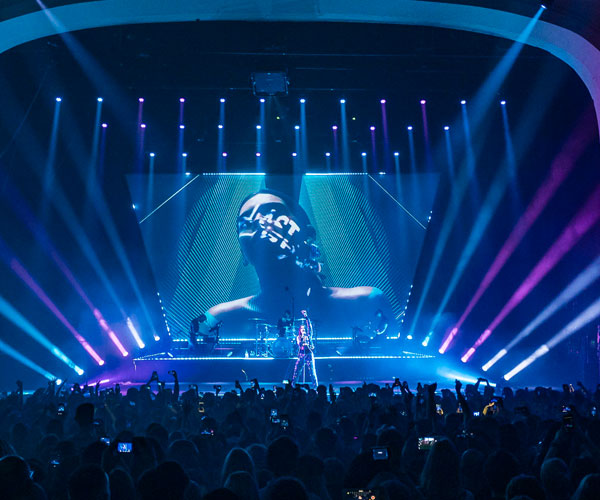 Really Creative Media has collaborated with Cassius Creative to help design and create the overall look for pop star Dua Lipa's UK and Europe tour.
Dua Lipa has enjoyed monumental success in the past 18 months, with her hits 'New Rules', 'Hotter Than Hell' and 'Be The One' helping her clinch Spotify UK's top spot as 2017's most streamed female artist.
Nick Dew and Jack James of Really Creative Media worked with Cassius Creative's Dan Hill and Chris Swain on the project.
Explaining how the collaboration came about, Mr Hill said: "We'd been involved with Dua Lipa for about 18 months on small projects and one-off shows having been introduced by her tour and production manager Pete Abbott, with the 'Self-Titled' tour being the first large production tour we'd worked on for her.
"As an emerging artist, Dua had a variety of references and visual aesthetics for the style she wanted to bring to the stage, many video content based, so we focused our attentions on bringing a video element into her tour. Having previously worked with Really Creative Media on Rudimental's high-energy set at V Festival, we looked forward to bringing the guys in to film and create new video content with Dua. We created Pinterest mood boards with her showcasing light, colour and shapes, resulting in a contemporary, geometric look to the show which focuses first and foremost on her as an artist. She knew what she wanted but didn't know how to make it happen which is where we came in."
Really Creative Media had just one day to get as many creative concepts filmed to form the basis of the tour's video aesthetics.
"A Sony F55 cinema camera was used as we know the workflow really well and we could work quickly with it," explained Mr Dew. "We used Dua Lipa herself as the main source of content inspiration as she didn't have a large set or props; the focus was purely on her and her vocal talent so our video content had to reflect this. The team spent the day filming creative scenes, including walking on a treadmill providing us with a constant walking towards the camera.
"We experimented with using song lyrics that were projected onto her face, with a monitor displaying the action allowing her to play to the camera, plus slow motion side-profile footage was filmed of her talent for bubblegum blowing. Using Dua in the live performance visuals made it really personal as the audience can clearly see it's her in silhouette or it's her doing the actions rather than models from stock content. Working with Cassius Creative's imaginative vision, we distorted a lot of the imagery so as not to look too clean and glossy – not a look that would work for all artists. One of my favourites was Garden where we used footage of Dua as a mask for layering up other content and textures. If you looked closely you knew it was her profile."
The lighting and defined stage area was designed by Cassius Creative. The stage itself hosted a minimalistic, 12 meter wide trapezoid projection screen from Hangman that was tilted away from the audience, creating the geometric, inflected square appearance. The LED framing, created by Light Initiative, was complemented with the lighting design which first and foremost focused on lighting Dua Lipa and the band, utilising Martin Aura XBs as footlights, and the Robe remote Followspot system – for full control over how they lit her at all times. Arrays of LEDBeam 150s and their narrow beams were used to frame the stage, as well as lines of GLP X4 20s, and the new versatile JDC1 strobes kindly leant to Cassius Creative as a trial for the project – which ultimately became a key design element, providing big backlight silhouette effects and dynamic strobe moments throughout the show, helping to merge the video and lighting throughout.
NEG Earth provided the lighting that sat outside the in-house provisions of the venues, whilst Cassius Creative supplied the Hippotizer media servers driving the video, all controlled through their MA2 Light consoles.
The tour took in a variety of venue sizes, resulting in an A and B set, one scaling down the screen size and lighting infrastructure without minimising the punchy visual impact of Dua Lipa's video content used to sum up her no-frills attitude to fans. This was perfectly displayed throughout her song 'IDGAF' which featured a screen-displayed warning.
www.reallycreativemedia.co.uk
www.cassiuscreative.co.uk/
Top Related Stories
Click here for the latest broadcast news stories.