Broadcast News
06/05/2014
SGO Reports Successful NAB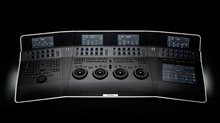 SGO reported a "highly successful outcome at NAB," having showcased its Mistika post production systems and Mamba FX compositing software.
The company showcased its new Spatial Isolation Toolset for Mistika 8.2, which gives colourists a number of methods to isolate individual objects within a scene so they can be graded separately; for example, based on their depth in the scene or by metadata provided by CGI animation systems.
The new features allow both the colour and the directional lighting of CGI objects to be fine-tuned in real time and in context. Demos are available at
www.sgo.es/2014/04/sgo-discloses-unique-colour-grading-tools
Also on show was a Precision Grading Panel for SGO's Mistika made by Digital Vision, delivering an additional option to boost Mistika's colour grading feature-set. "It was proven to be a sensation, and within hours of the show opening, an order was placed for two Precision Panels by ONSIGHT for their 4K, 3D, HD Mistika grading and finishing suites," a statement from the company said.
SGO's compositor Mamba FX made its first NAB appearance, featuring an intuitive, node-based graphic interface, delivering a complete visual effects suite with compositing layers and effects, running on Windows, Linux and soon available on Mac. With the recent addition of GenArts Sapphire 7, over 250 new effects and pre-sets are accessible to users. Mamba FX tutorials were launched at the show and are available at
www.mambatutorials.com
For Broadcasters, Mistika Air Ultra enables a viable solution with seamless integration of high-end post finishing tools for HD, Ultra HD and 8K productions. Mistika Air Ultra is capable of delivering real time and render-free colour grading and finishing processes, even at 4K 60P. Its diverse and versatile creative toolset is not restricted to 4K and is already able to provide for 8K post production pipelines.
Other new features in Mistika version 8.0 NAB included a new node-based compositing interface, support for Canon's RMF, Sony's XAVC, enhanced AAF support, ProRes 4:4:4:4 file formats, a re-branding output render module and Dolby Atmos DCP generation.
"NAB creates dynamic access to global markets and it's a great sphere of energy where we meet interesting new people and provide them with the very latest technological breakthroughs to fully support their creativity." said SGO's Director of Global Sales and Operations Geoff Mills.
www.sgo.es
(IT/JP)
Top Related Stories
Click here for the latest broadcast news stories.