Broadcast News
15/04/2014
Autodesk Announces Smoke 2015 Updates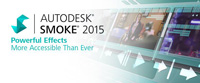 Autodesk unveiled the latest version of its video editing software Autodesk Smoke 2015 at this year's NAB Show in Las Vegas. As well as enhancements and the addition of new tools, Smoke 2015 will soon be available via desktop subscription, opening up new possibilities for smaller production budgets, as well as for larger productions working with freelancers.
"When Autodesk launched the 'radically redesigned' Smoke two years ago at NAB, we made a commitment to bring high-quality effects to editors in post, video production and corporate branding. And Smoke 2015 delivers on that promise," said Chris Bradshaw, senior vice president, Autodesk Media & Entertainment. "Smoke 2015 not only features highly-requested new creative tools and improved workflows with industry-standard tools such as Final Cut Pro, but also an even easier and more affordable way for small studios to get started with the software."
New features include a 3D Tracker, a new Timeline FX workflow, added hardware support and optimisation for the new Mac Pro running OS X Mavericks and better interoperability with Final Cut Pro X.
"For us, Smoke is a fantastic tool. I love the one place solution that Smoke offers; it saves hours of production time. We use Smoke as our main tool on music videos, tour visuals and motion graphics – from Madonna to The Prodigy to MTV. I want Smoke on every desk in my studio," said Eugene Riecansky, creative director, Rockstar (UK).
New features include:
• New re-architected Timeline FX offers new effects capabilities for editors - such as direct access to the Action 3D compositing environment as a segment-based effect
• New timeline-integrated 3D tracker allows editors to match original camera movements in a clip in order to add new elements: video layers, text or 3D objects
• Improved support for Blackmagic DesignLink card and UltraStudio for Thunderbolt devices and extended video IO support for AJA Video Systems to offer dual stream stereoscopic output
• Improved integration with Final Cut Pro X that supports more timeline and effects metadata. In addition, Smoke sequences can be exported as XML with accompanying QuickTime media files.
Smoke 2015 Desktop Subscription will be available starting May 8, 2014, on the Autodesk eStore for $195 SRP/month, $545 SRP/quarter and $1,750 SRP/year.
@Autodesk_ME
(IT/JP)
Top Related Stories
Click here for the latest broadcast news stories.