Broadcast News
06/12/2019
Up In A Puff Of Smoke - A Q&A With Ritchie Beacham-Paterson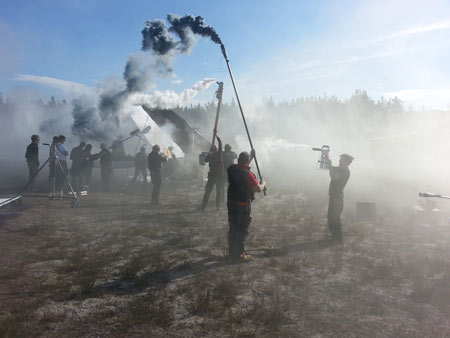 Ritchie Beacham-Paterson is a Special Effects Supervisor and Designer at Artem, one of the UK's most established special effects companies, well-known for its high-end atmospheric effects. His background stretches across multiple fields of the industry, from production, including directing and producing documentaries, commercials and music promos, to post-production. However, it was during his time working as a post-production and VFX producer that he realised his ambitions lay in the world of physical effects. Shortly after this, he met Mike Kelt (Artem Chairman and Co-Founder) when they were both part of the same UK Film Industry trade mission to the USA. Ritchie was struck by the incredible the work that Artem was producing and knew that this was where he wanted to be.
Artem are specialists in atmospherics, can you describe the range of work involved?
Atmospheric effects are often exactly that; effects designed to create or enhance atmosphere or create environmental effects in-camera. These usually fall into the category of either atmospheric weather effects, e.g. rain, wind and snow, or atmos smoke, which is more an umbrella term which also encompasses the use of mist, fog haze and steam. Atmos smoke is commonly used as a way to light and, in many ways, to partly grade a shot during filming or to emphasise a lighting effect that would otherwise not register or read the same to the eye or the camera. Basically, if you can see the lighting effect, such as shafts or bolts of light, then it is likely that some form of atmos smoke effect has been used.
The scale of the atmos can vary greatly depending on the required effect, from the very subtle such as creating a gentle hue in an interior location or set to imply soft dawn light through a window, up to the large scale exterior smoke effects such as recreating a low-lying mist or a heavy foggy day. These are achieved by using different types of smoke or fog machines with different types of fluid, usually a glycerine or glycol and de-ionised water-based mixture for lighter, quicker dispersing effects or one that is oil-based for heavier, longer lasting atmos. We hold over sixteen different types of atmos generating devices so can achieve a very broad scale of effects, from the huge right down to a puff of smoke in the palm of a hand. This can also extend to dry ice and to pyrotechnic and flammable smoke effects such as smoke cartridges or pellets although these are less clean and easy to control than say a smoke gun, and with a limited duration and are therefore used less often.
The type of device and smoke chemical we use to create and deploy atmos is not only dictated by the scale and type of the effect required but also by the location itself. For interior use electric machines are used. These come in a variety of forms with differing capabilities. For example, the Artem 'hazer' is designed to be left on in studio or a location trickling out a steady level all day, while our handheld options are charged up and then used 'off power' for short periods whenever and wherever needed, to levels that can be controlled by the operating SFX Technician as required.
For exterior locations where a heavier or larger output of smoke is required and where power may not be practical, gas powered devices are mainly used. Perhaps the best example of this is the Artem Smoke Gun which is in many ways the global industry standard in handheld exterior smoke guns and which last year celebrated its thirtieth birthday.
What have been your favourite projects and what did they entail?
That's a tough question as we work on so many great projects but Macbeth starring Michael Fassbender (Film 4, DMC Productions, Anton Capital Entertainment, Creative Scotland) saw us create some of our heaviest atmos effects to date in order to recreate the vast expanses of mist-swept highland countryside which the brief required.
This included us having to shroud huge swathes of unwanted landscape in mist and engulf hordes of battling armies, often in the face of the harsh and unforgiving elements which were seemingly intent on preventing our crew from doing so.
Season II of Into The Badlands (IMC Productions) was pretty extreme too, with its post-apocalyptic setting requiring heavy exterior and interior atmos in the vast majority of scenes. For the exteriors we were often battling strong winter winds that would whip inland from across the Irish Sea and over our exposed coastal, hilltop locations in Bray, Ireland, making the maintaining of consistent levels of atmos a constant challenge.
What's the most bizarre atmospheric effect Artem has created?
We're certainly no strangers to the bizarre at Artem and many projects and effects which we create could justify bearing that tag. That said, the giant smoke vortex cannon which we created for the dance troupe Humanhood last year certainly ticked the 'bizarre' box while achieving that much sought-after 'wow factor'.
We were tasked with designing a means to generate and launch a huge smoke ring across the heads of unsuspecting audiences at multiple live locations around the world for Humanhood's last tour which was based and titled around the theme of a torus. A torus is a three-dimensional geometric shape which resembles a doughnut in its circular shape, through which energy travels uninterrupted.
After a period of research and tests at our London workshop we settled upon a design which consisted of a 2.5 metre long and 1.8m wide 'cannon'. Its rear-mounted membrane was pulled into extension by a series of bungee cords secured by electromagnets which, on release via a DMX controller, created a single shockwave. The cannon's chamber was automatically, simultaneously filled with a non-toxic, water-based smoke vapour which was forced out through the barrel and launched by the shockwave, forming a giant smoke ring. The doughnut shape of the torus was formed by the air within the shockwave leaving the cannon rolling outwardly to the edge and travelling faster than the air around that outside edge. The resulting torus had a very ethereal quality to it and drew gasps from the audience as it appeared and travelled silently over their heads only to disappear at the back of the theatre or venue.
What are the challenges when creating smoke-based atmospherics?
Location and weather are the usual suspects as, while Artem is adept at creating artificial weather conditions such as wind and rain, we are yet to find a means to control the real thing. Wind will always dissipate and clear exterior atmos faster than we can introduce it. We do have some means to combat this, such as using long runs of what we call 'layflat'. This is inflatable tubing through which we channel the smoke or fog and which enables us to simultaneously generate atmos effects on multiple sides of a location in an effort to stay one step ahead of any changing directional wind. Heavy rain can also literally put a dampener on exterior atmos. The temperature conditions at a location will play a big part too, with colder ground temperatures causing atmos to be more low-lying while warmer temperatures will cause it to rise and dissipate quicker and the warmer it is, the quicker it rises.
The same applies to interior locations and anywhere well ventilated or draughty will cause the atmos to disappear faster.
What are the key questions clients should ask to ensure the best results of a TV series or film?
Is the location suitable? Is the location likely to be very exposed, windy or draughty and harder to contain any atmos in? A surrounding of trees, buildings, even foliage and plantation can help contain the atmos whilst a barren or open space can make it much harder to do so. Often the layout of the location will dictate how we approach achieving the effect and the equipment that we use to do so.
Also, is the location a sensitive one such as an historic or heritage building? We produce specially formulated water-based atmos fluids which are designed to be used instead of oil-based fluids in both interior and exterior locations of a sensitive nature, but it can often help to be able to reassure a potential location as early as possible that we have the means and the knowledge to protect the surrounding environment.
If requiring atmos in an interior location is there a smoke detecting alarm system present and will it be safe and appropriate to have this disconnected for the purposes of filming?
What are your top tips when commissioning atmospheric effects?
My top tips would be:
1. Know what you want to achieve. Have a clear image in mind of how you want the atmos to look and how the lighting will need to work with the atmos to achieve this. It can be pointless us filling a scene with atmos if it's not lit appropriately.
2. Always have us attend a location recce and as in advance of the shoot as possible. Our vast experience of working in practically every kind of location possible can be invaluable in helping to avoid multiple and often costly issues arising later during filming.
The Artem smoke machine has been the standard for film and TV sets for over three decades. What makes it so popular?
The Artem smoke gun is lightweight, portable and incredibly easy to operate and yet solid and super-dependable and has changed very little since its introduction 30 years ago, and for good reason. The gun has an exceptionally high smoke output and is controllable, enabling its use for a wide variety of smoke effects - from light mist to burning cars and blanket fog or the smoking debris of battlefields. All Artems are still assembled by our technicians in our workshops in West London and Glasgow and have been sold all over the world. They are used by most major physical special effects companies in the UK and further afield, with their use also extending outside of the film and television industry for fire safety or public order training by both police and the military.
How can people find out more or get in touch?
All our contact information is on the website –
www.artem.com
including case studies of our work in film, television and live events. We have workshops in London, Glasgow and are about to open a new facility in Manchester.
Top Related Stories
Click here for the latest broadcast news stories.