Broadcast News
04/02/2014
All Smoke & Mirrors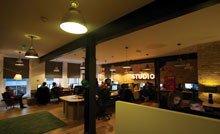 Robin Howell of Wire Broadcast discusses its recent project facilitating London visual effects and post-production company Smoke & Mirrors' relocation to Poland Street.
Smoke & Mirrors had been at its Beak Street facility since its inception in 1995. During that time the company had expanded massively (literally knocking through to neighbouring buildings on both sides!) to become an internationally-renowned post production house. The operational facilities had grown in an organic fashion, common to a lot of high-growth technology companies, with multiple interconnecting machine rooms and technical areas.
A move to new premises in Poland Street at the end of 2013 offered the perfect opportunity to start afresh and to plan and build infrastructure systems to meet present day and future needs.
The new site in Poland Street has a single centralised machine room which houses all the workstations for the five operational floors as well as core network, storage, KVM extension and traditional broadcast infrastructure. Directly outside the machine room sits a data management area that looks after ingest and outgoing requirements. Three Quantum LTO tape robots sit side-by side with KVM control systems, router control and a collection of legacy VTR formats.
The majority of the edit and grading workstations, (Flame, Smoke, Avid and Resolve) were moved across to the new building. However, the Smoke & Mirrors engineering department had major decisions to make regarding the key infrastructure products as all were purchased new. Network core switch and storage, edit station KVM extension system and video and control routing all went into the new building in advance of the move. This allowed us, as system integrators, to get these elements in place and ready so that edit suites could be moved and tested with minimal down time.
AKA design, who provided complete interior design services and all technical furniture, supplied us with a mock up of the edit suite furniture. This allowed us to prefabricate the edit suite wiring off-site to further aid a speedy transition from building to building.
Flexibility was a major requirement for the new facility. Single seat edit suites still had their place but emphasis was placed on being able to expand a room to hold multiple workstations working as a cluster on a single project. Key to this approach was the adoption of the KVM over IP extension system from Adder. The sixty workstations, all centrally located in the basement machine room, are picked up at the desktop across a couple of 1Gig network points. Flood wiring of network points over each floor, and a fibre backbone running up and down the building creates an agile environment with easy configuration of workstations into single edit suites or larger groups if required.
A HP10512 Core Switch was chosen to handle the heavy requirements of KVM over IP and other data requirements. The Core Switch was loaded with a 40GbE, 10GbE and 1GbE cards that connect to KVM transmitters and multiple edge switches on each floor. A new Isilon storage system connected directly into the 10GbE fibre cards.
The video and control element of the installation was covered by a Harris Platinum IP3 router. The choice of this system revolved around knowledge of existing panels and software and the requirement for a video router capable of ultra-high bandwidth.
A large section of the 28RU frame was given over to single-mode fibre outputs. Whilst all the I/O for the machine room are was installed with copper cabling throughout the building all video was transported over fibre. Single multi-core cables were used to each room/area again giving maximum flexibility for the future.
With the experience we have of working with the most successful post production houses in Soho we were able to advise on all aspects of this crucial move. While there is still some work going on, Smoke & Mirrors is already able to reap the benefits of a high spec facility which will ensure that they can maintain their very high standards of excellence for the foreseeable future.
Photos courtesy of AKA Design
www.wirebroadcast.co.uk
www.akadesign.com
(IT/JP)
Top Related Stories
Click here for the latest broadcast news stories.