Broadcast News
06/06/2013
Swapping Hawaii For The Big Smoke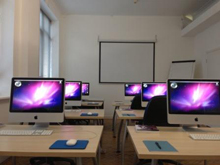 Amanda NK Caldeira, Training Manager at Soho Editors Training, on giving up life in an island paradise to work in the hustle and bustle of London.
"Are you crazy? You don't want to go back to Hawaii?" I hear those questions a lot. I remember shivering with a group of friends after a long shoot, waiting for a bus in the unforgiving January cold, covered head to toe with 7 billion layers of clothing wailing "I don't want to go back to Hawaii!" But you need to understand, the broadcast industry here in London is much more forgiving than Honolulu's; an industry that is still very much stuck in the '90s.
For Soho Editors, my main task is to coordinate training for all those that want to expand their skills within the media world. Occasionally, some of my clients are new freelancers fresh out of university looking to dive into the murky waters of Soho, and I'm always asked "how do I find jobs and how will these skills help me?" At this point, I have a 'Family Guy 'flashback of that one time when I was asking this question back home in sunny Hawaii.
Many will call the islands paradise, though, I must say, it's all relative. I was extremely fortunate to grow up in one of the nicest towns in the USA; however, as I got older and my interest in the TV and Film industry grew, my options staying on the island were thin on the ground. You'd think, with all the blockbuster movies shot in Hawaii, there must be a lagoon of jobs constantly being replenished with opportunities. Hunting for it, however, you'll sooner find the fountain of youth.
After I graduated in 2008 from a British university with honours, I was back in the Islands peddling my skills from one Post Production company to the next. To Hawaii's standards, I was either over-qualified or under experienced – the hidden prize handed out with every university degree.
Companies that were interested in my CV were offering services promising HD delivery, but shot with HDV cameras, and others, well, there was no recognisable moment when the offline was "pau" (Hawaiian for finished), and the online took over. I had two choices: start my own company and compete in a thinning market, or jump ship. I waved aloha to my world.
Since I had just graduated, I had the option to try my luck back in London. Compared to the laidback "no rush, yah" attitude of the sunnier climes, the UK was much more adapted to the constant to and fro of the media industry's workforce. I was able to build a clientele as a colourist, not to mention the ease of finding a gig, even if it's a wedding video (shudder), through sites such as Mandy.com and Film Crew. It was made even better when I partnered up with a friend to become a one-stop shop for post production.
With the way the industry is going, culling people who do not have more than one discernible skill, there are many multi-skilled bodies rising out of the ashes of the old industry. The jobs are no longer just for the singular talented individuals, masters of one, but for the Jacks with butt-loads of trades. As my friend and I had the background on the latest workflows, clients only needed to hand us their tapes (for you old timers) or their hard drives, and we could work through to delivering the master on our own jury-rigged system.
Now the clientele has changed and the freelancers with it. A camera operator is now expected to be able to edit, offline editors are required more and more to be able to online, and young directors are starting to cut their own assemblies before looking for backers.
Though Hawaii may have its own built-in beaches and sound stages the size of an Island, their industry is still very much for the elite, whereas the UK thrives on the occasional risk here and there, widening the talent pool.
Hawaii may be the place for the next Pirates of the Caribbean, but the best city to level-up would have to be London. It's true, I'm throwing away someone else's paradise to chase a dream, but, like Einstein said: "it's all relative."
Read the article in the online edition of Regional Film & Video
here
.
(IT/CD)
Top Related Stories
Click here for the latest broadcast news stories.