Broadcast News
03/04/2014
ARRI/ZEISS Present Latest In Master Anamorphic Family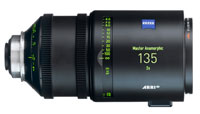 ARRI and ZEISS will be presenting the ARRI/ZEISS Master Anamorphic MA135/T1.9 at their booths at this year's NAB Show.
The Master Anamorphic family was launched in September 2012 with the unveiling of the MA 50/T1.9 at IBC. This was followed by the launch of the MA 35/T1.9, MA 75/T1.9 and MA 100/T1.9 lenses at NAB and IBC in 2013, and the MA 40/T1.9 and MA 60/T1.9 at the ZEISS Cine Lens Day in November last year. Now, the MA135/T1.9 rounds off this portfolio of high-quality anamorphic cine lenses jointly developed by ARRI and ZEISS.
The three-lens sets (35, 50 and 75 mm) available since September 2013 are already in use on a wide range of projects. The six-lens sets (comprising 35, 40, 50, 60, 75 and 100 mm)are now available. Delivery of the MA 135/T1.9 begins in July 2014.
The ARRI/ZEISS Master Anamorphic lenses are the result of drawing on years of expertise from the collaborative companies. The lenses are designed to show minimal image breathing and low distortion. The issue of anamorphic mumps is balanced out automatically by positioning the cylindrical lens elements at strategically important points in the lens. The almost telecentric optical design is intended to reduce colour errors (chromatic aberrations) and shading in the corners of the image.
The lenses produce an anamorphic bokeh that is free from artifacts. A newly developed iris diaphragm with 15 aperture blades has been integrated into the ARRI/ZEISS Master Anamorphic lenses to create a bokeh that is oval and evenly illuminated.
Through the shallow depth of field, the speed of T1.9 enables details to be set apart from the background – at all focal lengths. The lenses also boast reliable mechanics, founded on the ARRI/ZEISS Master Prime and ARRI/ZEISS Ultra Prime lenses. Improved protection against dust and water splashes reduces servicing downtimes.
The ARRI/ZEISS Master Anamorphic lenses are manufactured in Germany by ZEISS, exclusively for ARRI. They are only available through ARRI sales channels.
www.arri.com
(IT/JP)
Top Related Stories
Click here for the latest broadcast news stories.