Broadcast News
07/06/2013
Squinting Through The Industry's Glass Eye (Pt 2)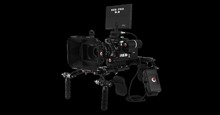 Someone looking at the various new anamorphic lenses at the show had said to Zellan that perfection is really over rated.
"As soon as we get a perfect lens, what do people want? They want the flare back. They want a personality. The Cooke look is known and loved, and what we have tried to do with our anamorphic lens is to blend that with that technical thing, 'anamorphic funkiness', and get a lens that will look like an anamorphic lens," he said.
The lens to hand was a 40mm, but the market can expect coverage of 25-135mm in a set of seven lenses, and a price of under £20,000 per lens.
One of the biggest stories in optics has been collaboration between Cooke Optics and Thales Angénieux with regard to both companies' new anamorphic lenses.
"We make primes and they make zooms, so it seemed like a good idea to work together. People usually use our gear together, so Cooke and Angénieux have co-operated so we can offer a complete solution to the industry – our primes and their zooms," said Zellan. "It is more than a dialogue. We have exchanged information on a fairly deep level, and the Angénieux anamorphic zoom is a good product."
On the issue of sensor sizes, Zellan was succinct: "It is a nightmare. I wish the world would get together and say this is the size of sensor we are going to use, but it is never going to happen.
"A lot of it is a red herring. 5K? Well, I could have a gazillion K if we had a chip from here to the sun, but nothing comes for free. As the chips get bigger lenses are going to get slower. In optics there is no free lunch," he added. "There is nothing that you push in one place that doesn't pop out somewhere else, so I think people have to consider all the ramifications of these large chips."
The chips are up
Angénieux showed the stunning Optimo 56-152mm compact anamorphic zoom (2x squeeze and fast aperture of T: 4) and promised a complete line of zooms that mix faultless resolution with a human feel to the image. All will match to the Cooke primes (25mm, 32mm, 40mm, 50mm, 75mm, 100mm, and 135mm, all at T: 3).
Thom Calabro of Fujinon, director of marketing and product development, echoed Richard Schleuning on the issue of sensors.
"The one thing we did, when we designed the latest Cabrio lens, was to cover for the largest chip out there - the Red Epic. It is 3l.4 and we cover 31.5 with our Cabrios.
You cannot adjust your lens for different size sensors," he observed.
Fujinon also has an ultra wide field production lens, which Calabro insisted is the widest lens out there currently. "It is totally brand new in construction. It winds up being lighter and smaller than our earlier release even though it is longer and wider. It has brand new stabilisation in it. This handles 40% of picture height, and it does it better than the last system (25%)."
Small boutique business
Canon is aiming its new 35mm prime lens at the 4K imaging market, specifically at large-format single sensor cameras (S35 up to APS-C in size). It joins a line already offering 14mm, 24mm, 50mm, 85mm, and 135mm EF-mount prime lenses. Laurence Thorpe, senior fellow with Canon USA's Professional Engineering & Solutions Imaging Technologies & Communications Group, first talked about the rush of anamorphic lenses.
"I had many discussions during NAB on the issue of the re-emergence of anamorphic lenses, and found it interesting that all of the new lenses (Angénieux, Cooke and Zeiss) appeared to have a 2:1 squeeze indicating all primarily had sights on the 4:3 image sensor of the Arri Alexa," he said.
"I guess that tight European club works in concert very well! Historically, throughout the long motion picture film era, anamorphic has come and gone in cycles. It has always been a small boutique business," he added. "Yet, it appears to add credibility to the various optical manufactures to step forward and meet that modest and erratic demand. And, some major movies always emerge that add credibility to anamorphic."
Thorpe also heard it said by people during NAB that the optical artifacts of the anamorphic restore a degree of an  "organic" appearance to the "increasingly pristine" digital imagery of contemporary digital cine cameras.
"Certainly one could see such artifacts in some of the new anamorphic lenses. The Zeiss, on the other hand, appeared to my eye to be free of such artifacts. Possibly the high costs reflect the extra engineering they required to specifically eliminate such artifacts," he said. 
On the issue of sensor sizes, Thorpe added: "We were caught napping with our first two Super 35mm cine zoom lenses (CN-E 14.5 - 60mm and CN-E30 - 300mm), which we had designed to cover all Super 35mm image circles of the available digital cine cameras and 3-perf S35 motion picture film.
"When RED introduced the EPIC camera with the 5K image sensor, it did this with no consultation with any of the optical manufacturers. Going beyond the 28.5mm of S35 with their 31.4 image diagonal, we   were able to increase our optical image size in our next two Cine zoom lenses (CN-E30 - 105mm and CN-E15.5 - 47mm) to fully encompass the RED Epic," he added.
"At NAB RED increased the image size yet again with the new 6K Dragon image sensor - again with no consultation with any of the major optical manufacturers, so in this respect users do have to be careful when choosing lenses for these two RED cameras. From what I can see, all other camera manufacturers appear to continue to conform to the approximate Super 35mm image circle of 28.5mm," he continued. "Our EF prime lenses have no such problem as they are all full frame (36 x 24mm)."
Read the article in the online edition of Regional Film & Video
here
.
(IT/MH)
Top Related Stories
Click here for the latest broadcast news stories.