Broadcast News
26/02/2014
Autoscript Launches WinPlus Remote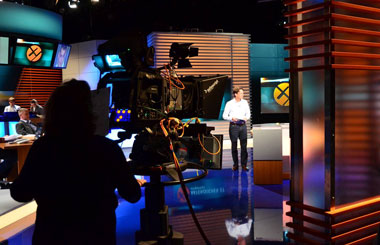 Autoscript has announced the launch of WinPlus Remote, an iOS-based teleprompting system that delivers up-to-date scripts to users in the field, anywhere in the world.
The technology is also suited to remote news bureaus and smaller newsroom operations.
When WinPlus Remote is installed on a networked PC in the production facility, the latest version of the script can be seen by journalists on location, as well as in the studio. The software enables the script to be automatically uploaded to an FTP site where it can be downloaded onto an iPad by talent in the field and kept constantly updated. WinPlus Remote, developed by market leader Autoscript, works in conjunction with an iOS app, picoPrompt, and the iScroll Hand Control package, both created by Teleprompting Techniques.
"There have been iPad prompting apps on the market for some time," said Robin Brown, product manager, Autoscript. "However, the link to the newsroom has been missing, which effectively means that there is no access to live updated scripts on location. Now, with WinPlus Remote, field talent can quickly and easily download the latest script from the FTP site by simply connecting their iPads to the network.
"This brings both speed and efficiency to remote staff, as well as increased accuracy. Instead of having the director conveying the script changes via an ear piece and a journalist having to manually make the changes, this system allows them to refresh the script with the click of a button.
"In this way they will always have the latest version of the script on their iPad, allowing them to focus on the task at hand, such as reporting on breaking news."
The WinPlus Remote system is ideal for use in applications where news is being updated constantly, such as sports reporting. It is also suited for use in locations where a prompting system with full camera unit and software products isn't available or practical. In addition, WinPlus Remote can be used as an add-on in facilities where other prompting software systems already exist.
The system is therefore also ideal for smaller news operations with limited budgets as it is a cost-effective alternative to a full software system.
WinPlus Remote is being officially launched at NAB in April and will be available from Autoscript. picoPrompt can be downloaded via the Apple App Store and iScroll Hand Control may be purchased directly from Teleprompting Techniques.
www.autoscript.tv
Top Related Stories
Click here for the latest broadcast news stories.