Broadcast News
15/11/2013
SIS LIVE Signs Deal With ITV, ITN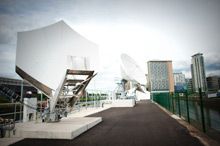 SIS LIVE has signed new contracts with ITV and ITN for the supply of satellite newsgathering (SNG) services.
The seven-year agreement includes the provision of 18 HD SNG vehicles, downlinks, IP systems and satellite capacity to facilitate ITV and ITN's satellite news gathering requirements in the UK.
SIS LIVE has worked with ITV and ITN for 20 years. It owns and operates the largest uplink fleet in Europe, with more than 500 MHz of permanently leased satellite capacity and a comprehensive connectivity infrastructure that includes two large broadcast teleports/MCRs and a national fibre network.
A new development to SIS LIVE's service offering is the extended provision of IP services, of which ITV and ITN will be the first beneficiaries.
A new iDirect hub at MediaCityUK will work alongside existing SIS LIVE iDirect services from Milton Keynes, including a SIS uBook system that dynamically allocates bandwidth between DVB and IP carriers.
The multi-satellite hub will provide iDirect-based IP services to over 100 SIS LIVE uplink vehicles with 20 new Ka band uplink units to be delivered from 2014.
The service will utilise SIS LIVE's new 8.1m Ka band antenna at its MediaCityUK teleport, with smaller Ka band antennas installed at ITV's regional bases and ITN's headquarters on Grays Inn road, providing downlink of signals and local IP connectivity.
David Meynell, Managing Director, SIS LIVE said: "Having been heavily involved with the first major automated service for ITV and ITN back in 2004 SIS has an in depth understanding of their need for high quality, efficient SNG services delivered by the latest innovative, cost-efficient technology.
"ITV and ITN are pioneers, changing the face of the SNG industry, and together we have pushed the boundaries further by committing to the first major SNG fleet operating to Ka Band capacity. I am immensely proud of the efforts of our technical, operational and commercial teams who have got us to this position and look forward to the roll out of the brand new fleet in 2014, and to continuing to deliver the excellence that has facilitated ITV and ITN's award winning news coverage."
Paul Stevenson, Director of Technology for ITV News said: "ITV News is pleased to replace its SNG trucks with a modern, agile and capable new fleet. This fleet will be key to serving our national and regional news coverage well into the future, able to bring live coverage where the stories demand. The IP and HD capabilities of this new generation of trucks add a whole new strength to our coverage. We look forward to a productive relationship with SIS, our established SNG partners."
Keith Cass, Director of Technology for ITN said: "We're delighted to have agreed this deal, which allows us to continue working with the very latest in satellite newsgathering technology. We value our long relationship with SIS LIVE and are excited by the opportunities offered by the new fleet of SNG's which are equipped to support both DVB and IP based workflows. These new SNG's, operating over Ka satellite space, will ensure we remain firmly at the cutting edge of newsgathering operations."
www.sislive.tv
(IT/JP)
Top Related Stories
Click here for the latest broadcast news stories.