Broadcast News
05/11/2013
SIS LIVE Installs MediaCity Hub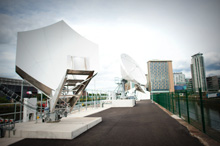 Satellite connectivity and broadcast provider SIS LIVE has announced the installation of a new iDirect hub at MediaCityUK, Salford.
The hub will operate from SIS LIVE's Salford teleport to provide IP services to UK and overseas customers.
The new hub will work alongside the existing SIS LIVE iDirect services, which have operated out of their Milton Keynes teleport since 2007.
The iDirect hub, operating on the latest Evolution iDX 3.2 software, will run on multiple satellites including a new SIS Ka Band service, utlising an 8.1m antenna at SIS LIVE's MediaCityUK teleport.
The multi-satellite hub will provide iDirect-based IP services to over 100 SIS LIVE uplink vehicles. SIS LIVE will also build and deliver up to 20 new Ka band uplinks in 2014.
SIS LIVE's engineers have developed a system to allow both DVB carriers and iDirect-based IP carriers to share the same satellite capacity, thus optimising service levels and reducing costs. The service will allow broadcasters to deliver from 'source to studio' file-based content and continue to use efficient DVB video encoders for low latency high bit rate live broadcasts.
SIS LIVE's Research and Development team are already working on a new version of this DVB/IP sharing system which will use uBook, SIS LIVE's fully integrated, online booking system, affording users full flexibility and immediate control over both DVB and IP transmissions.
Dimitri Zafiriadis, Sales Director, Northern Europe iDirect commented: "SIS LIVE has been a major customer for iDirect for many years and we are pleased to be working closely with them to expand their service offerings. They have taken a very innovative approach to assimilate iDirect into their proprietary booking system allowing them to offer their clients a completely integrated and user-friendly system.:
David Meynell, Managing Director at SIS LIVE added: "SIS LIVE Links division continues to push the boundaries of SNG provision and this is the latest exciting development in a long line of innovation and first-to-market cutting edge services. Working with iDirect, we have developed a bookings and IP proposition that is unique to the market place and will appeal to all serious broadcasters in the UK and beyond. Flexing the bandwidth available for IP connectivity, shared by a customer's fleet of uplink terminals for data and video transfer, whilst retaining the ability for SCPC live critical transmissions truly does offer the best use of satellite bandwidth for the ever-demanding, content-rich world."
www.sislive.tv
(IT/CD)
Top Related Stories
Click here for the latest broadcast news stories.