Broadcast News
11/02/2014
SIS LIVE In Sky Sports Deal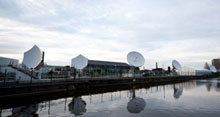 SIS LIVE has revealed a new agreement with Sky Sports News for the provision of satellite capacity for its newsgathering operations.
Sky Sports News already has a history with the company, having adopted its SNG services and satellite capacity.
This latest four-year contract delivers 73MHz of capacity on the Eutelsat E16A satellite for the Sky Sports and Sky Sports News fleet of satellite newsgathering (SNG) vehicles, which are also supplied and operated by SIS LIVE.
Sky Sports is to utilise the satellite bandwidth for live coverage of weekend football matches, which are also transmitted by SIS LIVE SNG vehicles.
SIS LIVE is able to provide full resilience for the Sky downlink system, using its two broadcast teleport/MCR systems which offer round the clock coverage. The teleports, located in Milton Keynes and MediaCityUK in Salford, are connected to the SIS LIVE national fibre network which has direct reach into locations around the UK, including Sky's facility in Osterley.
SIS LIVE has previously supported Sky Sports News in a number of projects, including its 92Live programme, which saw live broadcasts take place from each of the 92 football and Premier League grounds in the UK in the space of 12 hours. Sky Sports has also called on SIS LIVE in the development of its Ultra HD (4K) capability, which has seen SIS LIVE uplink vehicles broadcast Ultra HD coverage of Premier League football over satellite.
David Meynell says: "This important agreement with Sky Sports is yet further proof of SIS LIVE's position as the preeminent supplier of satellite services to the UK broadcast market and as a significant customer to the major satellite providers. This position enables us to benefit from the best market rates and offer tremendous value to our customers, alongside our other SNG service offerings. We will continue to use this position of strength to ensure the very best services, utilising the very latest in innovative technology, and continuing to drive and lead the provision of SNG services in the UK."
James Clement, Head of Operations at Sky Sports, said: "SIS LIVE has provided Sky Sports with uplink facilities and satellite capacity for a number of years and we are pleased to be signing a new contract for satellite capacity for Sky Sports and Sky Sports News. It is difficult to predict what the future will hold for live sports and sports news, but we have confidence that SIS can deliver whatever we might need and after our successful 4K trials with SIS back in August, we look forward to continuing to offer the best viewing experience for our customers, supported by SIS, one of our most dedicated suppliers."
www.sislive.tv
(IT/CD)
Top Related Stories
Click here for the latest broadcast news stories.