Broadcast News
28/08/2013
Sachtler Ace M Proves Reliable Wedding Date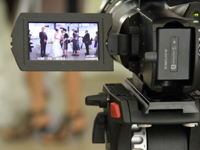 Maik Petran is a newcomer to the film and video industry. With his production company Video Petran, he films various events, creates music videos, produces videos for promotional and training purposes, and follows couples on their wedding day to shoot personalized wedding videos. "Every wedding is different. I have to be very flexible with my equipment to capture the right moment," Petran explains. To make sure that he doesn't miss any wedding's special "I do" moment, the videographer relies on the Sachtler Ace M MS tripod system with mid-level spreader for his wedding video shoots: "The results are great! For the couples, these snapshots are invaluable." Sachtler is part of Vitec Videocom and a Vitec Group company.
Confident Companion
The Ace M tripod system is geared to camera set-ups of 0 to 4 kg (8.8 lbs) and, therefore, fits Petran's Sony NEX-VG10 perfectly. This way, Petran can follow the action closely – from hair and make-up to dressing the bride and the party after the ceremony. "I've seen a lot," the filmmaker says. "It doesn't matter to me whether the wedding is outdoors, on the royal grounds of a castle, or in an art museum in Bielefeld. I have my equipment quickly at hand and am immediately ready for filming thanks to Ace, as the tripod system can be set up fast. And during transport, it does not require a lot of space because it is particularly compact. Ace came with a practical carrying bag in a set. This allows me to securely pack up the tripod system and quickly get to the next filming location," the videographer affirms.
Absolutely Dependable
"During the filming of a wedding, everything has to run perfectly," Petran says. "After all, the 'I do' moment cannot be repeated." This is why he depends on the tried-and-trusted camera support by Sachtler to film his wedding videos. "At such a reasonable price, Ace is incredibly well crafted. For this reason, panning and tilting are very precise with the fluid head." The newly patented SA drag™ of the Ace fluid heads won Petran over the first time he used his Ace. "The smooth damping is fantastic! Nothing shakes," he raves The three horizontal and three vertical grades of drag allow the user to adjust the damping just right for each particular filming situation – with high or low resistance, or without any at all. "As soon as I have found the right setting, I can reproduce it exactly the next time I need it," Petran explains. Furthermore, the five-step counterbalance helps the wedding videographer to quickly balance his camera set-up. Maik Petran has no doubts about his equipment: "Ace M is great. It allows me to devote my undivided attention to my work. This is just genuine Sachtler quality!"
Sachtler
(MH/CD)
Top Related Stories
Click here for the latest broadcast news stories.