Broadcast News
18/12/2013
Sachtler's Ace L Used For Sacred Shoot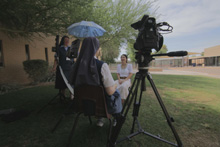 Rob Kaczmark of Spirit Juice Studios has revealed his selection of the Sachtler Ace L system for productions with a tight budget and limited time. "Being from Chicago, we have to fly a lot of equipment with us to locations," he says.
"Having a lightweight tripod like the Sachtler Ace L system with us on the trip really makes our job easier, especially due to the run-and-gun nature of the shoot. The Ace L is easy to set up, smooth, and most importantly, extremely portable."
The Ace L is a 75mm fluid head with a choice of carbon-fiber tripods to support a payload range of 0-13.2 pounds. It provides seven-step counterbalancing and patented SA dragTM (Synchronized Actuated Drag) with three vertical and three horizontal grades of drag (+0).
Kaczmark recently selected the Ace L for a vocational video for a religious community, The Daughters of St. Paul.
"These sisters devote their lives to using modern media to spread their message of peace and hope," he explains.
"We were hired to film them on a weekend in Phoenix, Arizona — the hottest weekend on record! The sisters needed us to film multiple stand-up interviews as well as B-roll of them as they prepared for the initiation of a new member. We also needed to get B-roll of Phoenix and the great desert around it. It was fast-paced, quick set-up — a packed weekend."
"On Saturday, the temperature was a balmy 101. We began our day early to film B-roll of the Phoenix desert, Arizona State University and the Phoenix botanical gardens," he continues.
"We only had three hours to capture as much as we could. Without the Ace L, the already difficult conditions would have been even more so. The Ace L was light, easy-to-use and smooth as butter! It handled the weight of the Canon C300 camera with Canon still glass, the Rode NTG 3 microphone, and our heavier long lenses just fine!
"The Ace L gave us versatility, and the professional features make our set-up and tear-down easier, quicker, and more efficient than other professional tripods we have used," he adds. "One of my favorite things about this tripod is the clear and simple-to-use drag system. It might be lightweight, but it has a professional strength and durability that is required for the type of work and travel we do."
www.sachtler.com
(IT/MH)
Top Related Stories
Click here for the latest broadcast news stories.