Broadcast News
05/10/2012
Florida Wilds Trek Supported By Sachtler's Ace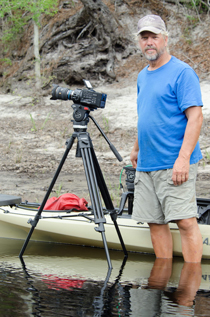 Florida-based documentary and video producer Elam Stoltzfus, a long-time Sachtler user, recently chose the new Sachtler Ace tripod system to support his 100-day, 1000-mile trek across the heartland of Florida, for a PBS special.
Sachtler is part of Vitec Videocom, a Vitec Group company.
"This is an education and awareness campaign that demonstrates the connection between the landscapes and watersheds," explains Stoltzfus. "If we show Floridians the panthers, bears, native cultures, ranchlands and rivers and how they are all connected, then they can help us make the Florida Wildlife Corridor conservation project a reality."
Ace as Second Unit
Stoltzfus goes on to explain: "My gear has to be able to stand up to the elements of environmental stress and endurance to capture the images in the wilds of Florida. That's why I always count on Sachtler. I've been using a Cine 7x7 for over 30 years. I've had it rebuilt twice and never had a problem. It's solid and dependable, no matter what I need it to do."
"New on this shoot is the Ace, which is lightweight, easy to set up and a solid support for the smaller Sony NEX-FS100. The Sachtler tripod and head setup provides me with a sturdy platform for the various cameras I use. The combination works well in outdoor locations and transports well in traveling situations."
Perfect for challenging shoots
"This shoot required that I put the Sachtler Ace in a variety of challenging situations, including mounting it on our kayak. I was able to fasten it quickly, a great advantage, because we were constantly moving – so we needed efficiency and endurance. I always get that with Sachtler."
Stoltzfus found that the new patented SA-dragTM system, which has three horizontal and three vertical steps, allowed him to choose a drag setting that suited every situation he encountered on this trek. He could move from very tight control with more resistance to very loose control with virtually no resistance at all. The five-step counterbalance capability ensured him easy balancing and optimum positioning of the camera.
Stoltzfus' own Live Oak Production Group will use the footage he captured with the Florida Wildlife Corridor Expedition Team to release a weekly 1:15 minute – 15 part series for Public Broadcasting System (PBS) in Florida, as well as a two-hour documentary for national PBS release.
www.sachtler.com
Top Related Stories
Click here for the latest broadcast news stories.