Broadcast News
26/06/2017
Sachtler Announce The Ace XL Fluid Head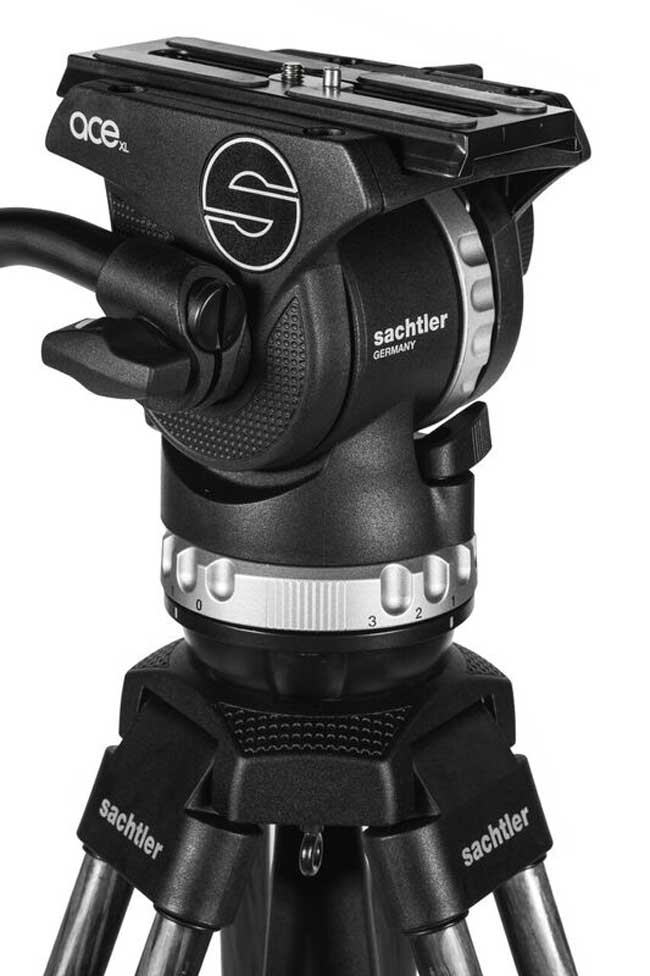 Sachtler has introduced the Ace XL 75mm fluid head, offering increased payload support for users.
The Ace XL, which is an upgrade of the company's Ace L, offers an increase of 2kg of maximum payload capacity over the previous model. The enhancement means that the fluid head is suitable for use with cine-style cameras.
The Ace XL has a maximum payload of 8kg which delivers the versatility to support a broader range of configurations. Eight counter-balance steps make balancing the camera comfortable and quick, and the Ace XL's patented SA drag™ (Synchronised Actuated Drag) provides a broadcast feel and dependability for precise panning and tilting. The 104mm sliding range of the Ace camera plate allows for quick camera setup, and clearly marked counterbalance settings aid in setting repeatable moves and provide a tilt range of +90 to -75 degrees.
It is available in a choice of three different configurations using Sachtler's carbon-fiber tripods. Users can choose the Ace XL mounted on the ACE 75/2 CF with either a midlevel spreader or a ground spreader, or paired with the TT 75/2 telescopic tripod. In the ACE 75/2 CF configuration with the midlevel spreader, the Ace XL system weighs 3.9kg. The configurations using the ACE 75/2 CF with the ground spreader or the TT 75/2 weighs in at 4.1kg.
The 75/2 CF tripod with ground spreader provides a height range of 56 to 173 cms and the 75/2 CF offers a height range of 79 to 170 cms with midlevel spreaders. With three segments per leg, the TT/2 CF telescopic tripod can be set up quickly and easily in a variety of angles. Equipped with the Ace XL head, the tripod provides a broad height range of 43 to 186 cms. All three Ace XL tripod systems come with a padded bag featuring grips and a carrying strap.
Tobias Keuthen, Director of Global Product Marketing Management, Sachtler, said: "When we introduced the Ace L almost five years ago, it quickly became the most popular tripod system in its class, thanks to powerful features such as a choice of lightweight carbon-fiber tripods, an extended payload range for work with multiple camera accessories, and typical Sachtler extras such as the illuminated level bubble. The new Ace XL takes everything that's great about the Ace L and makes it even better, all without passing on a price increase to customers."
Image: Sachtler Ace XL 75mm Fluid Head.
www.sachtler.com
(JP/LM)
Top Related Stories
Click here for the latest broadcast news stories.