Broadcast News
07/06/2013
Squinting Through The Industry's Glass Eye (Pt 1)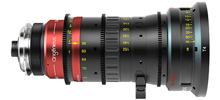 Prime suspects: George Jarrett talks to the lens manufacturers about chip sizes and the turn again to anamorphic lenses for some 'personality' in digital imaging. And how significant is the technology alliance between Cooke and Angénieux?
The one product area that has been impervious to any downturn in recent years is the industry's glass eye – lenses.
The booming market for digital cameras is the major reason, but that also introduces new challenges based around the look of any content, the sensors used by the various camera manufacturers and a lack of awareness amongst users. Just ask why there is a resurgence of interest in anamorphic lenses, and look closely at the size and packing of the pixels in the sensor in your camera.
To discuss the market and its problems and trends I spoke principally to Richard Schleuning, national sales manager for Zeiss in the US, to Cooke chairman and owner Les Zellan, and to Larry Thorpe from Canon. New products of interest also came from Angenieux and Fujinon.
The good glass, bad glass issue
Zeiss introduced a third line of compact prime cine lenses for the entry-level market.
"This is a brand new business for us, and it is fairly high volume in addition to the master primes and ultra primes," Schleuning said.
"The demand for cine style lenses throughout the industry is remarkable right now."
He produced a new compact zoom (28-80) and a master anamorphic, and said: "We are telling customers that when they consider using lenses on 4K and higher resolution cameras that they really need to understand how manufacturers arrive at high resolution. There are very different paths they can take.
"For example, take Sony and its F65. It achieves high resolution by packing more pixels into the S35 sensor. In fact, the pixel size is four microns. This is the same as the D-800 for still photography," he added.
"Because we straddle the still photography and the motion picture capture worlds we know that fine resolution separates good glass from bad glass very quickly. That very small pixel size demands a very high-resolution lens, otherwise you are wasting your investment in a good quality camera."
Legacy PL mount lenses might be deployed, and they would cover the image circle size, but whether or not they can resolve the very fine detail of that sensor is a good question. The Canon DSLR has a different form factor, and Schleuning feels it is vital for users to know the differences.
"Canon's pixel size is 7 microns, so it achieves 4K res by going with the 24 X 36 chip, which is roughly twice the size of the F65 chip," he said. "So for a filmmaker you have to consider which lenses to match with these working cameras."
So with Canon you need a lens that covers a 24 x 36 chip and with the F65 you require higher quality optics.
"Matching the right lens with the right camera is very critical," said Schleuning. "Our new lenses, particularly the compact zooms, are the only cine style zooms in the world that cover the 24 X 36 chip. We believe that within the working life of these lenses (10-15 years) that sensors are going to continue getting bigger.
"This trend is starting to evolve. Red is upgrading cameras right now with the new Dragon sensor, which can achieve 6K res with a slightly larger sensor size. The pixel size of 5 microns is not as small as Sony uses, but Red gets 6K through the bigger chip," he added.
"We believe that the diagonal on that chip is 34.5mm, so there will be a lot of legacy PL mount lenses that won't cover that chip at 6K."
There is a lot of pressure from studio producers to lower the cost of equipment, which is one big reason for the Zeiss compact prime range. Producers want cinematographers to create high image quality, but with much lower equipment and rental budgets.
"They may be going with a full digital cinema package, and a lot of guys are opting for a DSLR and other entry-level cameras because they have a price point that these production budgets can now match," said Schleuning. "They need lenses to match that, in fact the entire accessory package to match that camera. Our lenses have the same barrel dimensions, so swap outs between focal lengths are still easy to do. We wanted to make sure that users still have the control of focus and aperture, but in a lens that has an affordable price. Camera technology is changing so quickly it is hard to make the right choice."
Anamorphic funkiness
Les Zellan pointed at one issue: what if you want to shoot anamorphic in the digital age?
"If you shoot on film there is something to keep your eye occupied – intrinsic interest because the grain is always changing. If I shoot the same elements with a digital camera there is nothing there. It is just a log, and there is nothing going on," he said.
"What we see, as digital cameras get better and better, is a rush of people saying: 'I love the Cooke look; I love the Cooke lenses, but can I get an anamorphic option? It introduces a little character, a little personality into what otherwise could become a pretty boring shot," he added. "The resurgence of interest in shooting with anamorphic lenses is not because people care about using every pixel. They don't. It is because of the technical term 'anamorphic funkiness'."
Read the article in the online edition of Regional Film & Video
here
.
(IT/MH)
Top Related Stories
Click here for the latest broadcast news stories.