Broadcast News
04/06/2013
Silentair Reveals NR15 Air Conditioning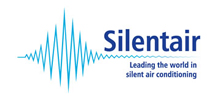 Silentair has announced it has created an air conditioning system with a sound measurement of NR15 and below.
Serenity, the company's flagship product, was tested at University of Salford (Acoustics Calibration Laboratory) where it achieved the sound measurement; a reduction on the previous reading of NR18 and below.
The product was designed in 2011 and was created to meet the demands of the broadcast industry.
A statement from Silent Air said: "Serenity is able to operate during recording and enables the studio to be heated first thing when people enter the building, and then cooled later in the day once the solar gains and heat from lights take effect; ultimately it enables studios to operate continuously at a comfortable temperature. "
Serenity was used by broadcasters at the Olympic stadium's media centre during London 2012.
A total of 70 systems were used in edit, audio and control rooms and customers included Al Jazeera, ITN and BBC amongst others.
Phill Gillatt, Technical Director who designed the product, said: "We're delighted with these results; we knew our product was one of the quietest around but now it's even quieter, operating at a level below normal hearing.
"There can be no doubt that this is the only solution of its kind currently. What's more our intelligent design means we can install the product in small spaces and quickly, minimising precious down time."
Existing customers to date include Retrojuice Studios, Isle of Man radio, The Imaginarium Studios, University of South West England and York St John University.
www.silentair.co.uk
(IT/CD)
Top Related Stories
Click here for the latest broadcast news stories.