Broadcast News
19/06/2008
Trantec Releases New Product 2008 Product Catalogue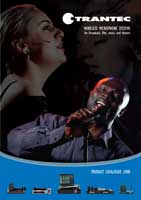 Trantec, the wireless mic systems designer and manufacturer, has launched its new 2008 product catalogue.
This catalogue is their most comprehensive to date and comprises over 250 products, demonstrating the wide scope of Trantec's wireless range.
Trantec's Head of Sales & Marketing, Mark Parkhouse, said: "Each year Trantec offers new ideas and inspiration enabling more and more users to benefit from our expertise. Our 2008 catalogue showcases cost-effective solutions for every application across broadcast, film, music and theatre, and users can now take advantage of our tradition of producing affordable and well-designed systems that represent great value for money.
"I'm confident the new catalogue will help inform users of our extensive portfolio, particularly the new digital SD7000 system which is again pushing boundaries in the world of wireless mics."
Featured within the new catalogue, the SD7000 has successfully demonstrated that you can now benefit from double the number of user channels than is possible with analogue systems.
Advanced features include digital transmission with 24 bit audio resolution, network monitoring for full control of up to 60 channels, fast DSP reducing latency to extremely low levels, and rugged metal housings on beltpacks and handheld mics.
Trantec's "Rack n' Ready" systems remain a strong business focus for 2008 and, as the name suggests, these unique, compact, multi-channel packages come fully loaded with everything you need in one convenient flightcase.
Also featured is the award-winning S6000 Series, the S5.3 and S5.5 UHF systems, which have many features based on the S6000, though at a fraction of the cost; and the new 16 channel S4.16 incorporating 4 licence-free frequencies.
A copy of the catalogue is available by contacting Mark Parkhouse on: 0208 330 3111 or emailing:
mark@trantec.co.uk
.
Further information is available at:
www.trantec.co.uk
(KMcA)
Top Related Stories
Click here for the latest broadcast news stories.