Broadcast News
26/04/2012
Canford Adds Roland Brand At PLASA Focus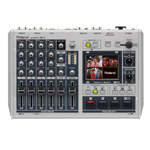 Canford has added Roland to its ever expanding range of brands it distributes and will be showing a selection of Roland products at PLASA Focus alongside other top brands such as Tascam, Denon and EMO. The latest updates to the Tecpro Wireless and Tecpro 2 communications ranges will also be on display alongside the newest addition to the Telex range, the BTR-240 wireless intercom system. Canford's unique D'n'A cable range for both analogue and digital audio signals will also be shown at the show. A selection of the high end Voice Technologies microphones intended for live or performance use will displayed alongside performance mics from Shure, Sennheiser, Beyer and Audio Technica.
Canford will present selected products from Roland at PLASA Focus simultaneously announcing their appointment as a distributor for the market leading brand. Products will include the VC-30HD multi-input video converter and encoder, the VR-3, and A4 sized compact 'all in one' audio mixer and video switcher and two USB audio interfaces. The UA-55, which provides four inputs and four outputs and the UA-1010, providing ten inputs and ten outputs.
Denon's range of professional CD players intended for broadcast playout and other professional applications will be represented by 3 models; the DN-C620, the DN-C635 and the DN-C640. The range starts with professional connectivity and high quality cue and playout capability, adding more sophisticated functionality as you move up through the range including variable pitch and an embedded server providing access to networked material.
The latest developments from Tecpro, Canford's own communications system, will be at the show including the extremely rugged new beltpacks. Canford were so confident of the new design's sturdiness, they drove a van over one then dropped it from a height of 10m onto a concrete floor. When tested afterwards, it proved itself more than up to the rigours of the professional environment and still worked perfectly.
The beltpacks are available as single or dual circuit units. The BP511 single-circuit beltpack is fitted with male and female 3-pin XLR connectors in parallel so beltpacks may be 'daisy-chained' together to form a temporary intercom circuit. It has two 'Mic' select switches, pressing either switch will open or close the microphone circuit. The BP523 dual-circuit beltpack uses two separate female, 3-pin, XLR input connectors, one for each circuit. The BP525 dual-circuit beltpack uses male and female 5-pin XLR connectors in parallel meaning these beltpacks can also be 'daisy-chained' together using dedicated 5-pin XLR cables.
Canford will also show the new Telex BTR-240 wireless comms system which is exclusively available through them in the UK. The BTR-240 system operates in the licence-free 2.4GHz frequency band and delivers full-duplex operation for up to 8 beltpacks with an almost unlimited number of half-duplex beltpacks. The BTR-240 can operate in three modes. As a normal wireless system with a base station relay, over a building's existing Ethernet infrastructure or with a beltpack acting as a mobile access point enabling wireless comms between the rest of the belt packs being employed with no need for a fixed base station.
The unique Canford D'n'A cable range (Digital and Analogue) has been redesigned to provide a true 100ohm impedance making the cables perfect for digital as well as analogue signals. An impedance of 100 ohms has been proven to be an optimal impedance for AES/EBU digital audio signals as well as analogue microphone and line level signals. Many of the cables come in Low Fire Hazard (LFH) versions.
www.canford.co.uk
(GK)
Top Related Stories
Click here for the latest broadcast news stories.