Broadcast News
24/02/2016
Shure Extends Microflex Wireless Range At ISE 2016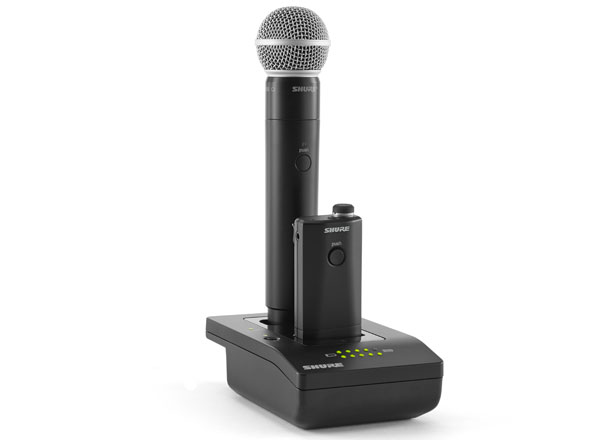 At the recent ISE 2016, Shure introduced two-channel, physically compact versions of the charging and routing hardware in the Microflex Wireless range.
Launched in 2013, the versatile and scalable MXW Systems range of wireless microphones and supporting hardware have become the industry go-to solution for managed AV Conferencing in large corporate boardrooms, multi-room environments and networked campuses.
Shure is adding to the range the MXWAPT2 — a two-channel version of the Access Point Transceiver, or wireless mic routing hardware — and the MXWNCS2, a two-channel version of the existing four- and eight-channel networked charging stations. The compact dimensions of both units extend the use of Microflex Wireless to even smaller-scale installations than before, for example in compact strategy planning and 'huddle' rooms.
The more compact hardware is also suitable for environments where only a few microphones are required, such as university lecture halls and corporate training facilities. The Dante-enabled units are still networkable, and meet the demand for large-scale central monitoring and control, as on networked campuses or as a part of global corporate networks.
Shure EMEA's Wolfgang Bilz, Senior Manager Product Management, said: "With the recent growth in smaller conference spaces, from huddle rooms to all-in-one videoconference solutions like Skype and BlueJeans, the demand for plug and play rechargeable wireless systems is rapidly increasing.
"The launch of the MXWAPT2 and MXWNCS2 make MXW ideal for lower channel count applications too."
The APT2 is a lightweight, discreet design with a paintable cover. Compatible with MXW1, MXW2 and MXW6 wireless transmitters, the NCS2 features two charging docks which can easily be installed on a wall or podium using the included mount bracket. Networked connectivity allows remote battery status monitoring and one-touch transmitter linking to the MXWAPT2 Access Point Transceiver.
The company have also introduced version 4 firmware for Microflex Wireless. As well as making existing Microflex Wireless systems compatible with the new two-channel MXWAPT2 and MXWNCS2, the v4 update allows users to define a backup microphone operating on the same audio channel as a main microphone.
This so-called 'pair a spare' feature means that users can have a spare ready to go in case they exhaust the battery pack on their main microphone. Whichever microphone of the pair is powered up first on a given channel of the MXWAPT will exclusively occupy that RF channel while the mic is operational. A remote pairing feature has also been added. This allows users to link spare Microflex Wireless microphones to any access point with a single command, which can be useful if spare microphones need to be added to the system at short notice.
"Since its launch, Microflex Wireless has always been the best-performing wireless mic system for boardrooms and presentations," Mr Bilz added.
"Our new 2-channel MXW systems, together with the new v4 firmware, add further options and operating environments to this range of best-in-class wireless audio solutions."
shure.com
(MH)
Top Related Stories
Click here for the latest broadcast news stories.