Broadcast News
11/04/2019
Canford On Tour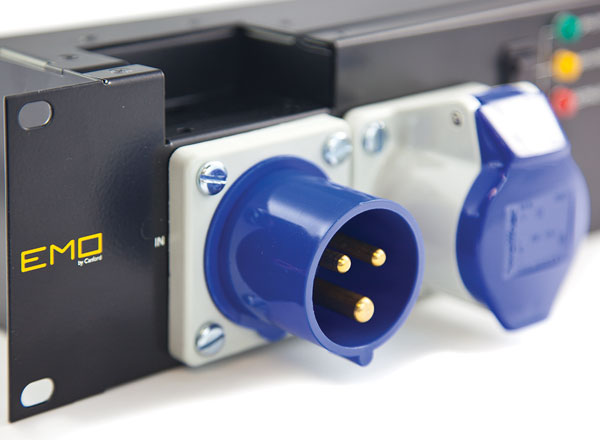 Although Canford is better known as a manufacturer and distributor of quality pro audio and video products to the broadcast, AV, theatre and education markets it has in recent years also begun to develop an increasingly strong reputation as a supplier of choice for the booming live touring industry.

With recording artists and the music industry in general seeing a significant reduction in revenues from traditional channels such as CD sales and digital downloads, they have increasingly looked towards the revitalised demand for live events as a way of filling the void. Live events in the UK are now reported to be worth in excess of £1 billion per year and this includes everything from the grassroots venues such as pubs and clubs right through to the major multi-stage events like Glastonbury and the BBC's Big Weekend.

The explosion in this field has seen an expansion in both the size and number of companies who plan, design and deliver these live events. As a trusted partner Canford has been on hand to work alongside many of the major providers in developing, sourcing and supplying the appropriate solutions and quality products that help to make each event successful. Equally, and in true Canford style, that same level of support has been extended to 'one man band' operations, albeit in this market the term is, in many cases, more literal!

Many of the products Canford supplies into the touring market already have a long standing reputation for performance and reliability within Canford's other core areas and this is why these are also the preferred first choice for touring and live events. Products such as the much loved and virtually indestructible range of EMO Power Distribution Panels, DI boxes and both Mic and Line Splitters. Also well-liked and respected is Canford's Tecpro Communication System which is renowned as the industry standard for talkback intercoms in the UK due to its reliable performance, clarity and the robust construction of its headsets and belt packs. Both of these brands are designed and manufactured in the UK by Canford.

Canford recently introduced Green-Go, in-part to bolster its ability to support the live events, rental and touring markets. Green-Go is a cost effective scalable digital communication system that operates securely over a standard Ethernet network and includes wireless capabilities. Whilst Green-Go operates very well as a stand-alone product it does have the added advantage of being easily integrated with any two-wire or four-wire analogue (or digital) systems such as Tecpro, PMR Walkie Talkie Radios and global systems via the BridgeX network interface.

Canford are not just about supplying a few niche ranges but instead aim to offer the widest possible cross section of solutions with many popular products being available ex-stock for next day delivery. Many of the company's 15,000+ standard products are already widely used within the live events industry and these include popular brands such as Neutrik, Ten47 (Tourline, Powerline and Showline Series), Scolmore (Locking IECs), Littlite, K&M, Peltor, Beyer, Sennheiser, Shure, DPA, Voice Technologies and TC Electronic - including the System 6000 mkII which is used on touring rigs for artists including Paul McCartney, Depeche Mode, AC/DC, Toto, Steely Dan, and more!

What makes Canford truly distinctive is that over 40% of the products offered are manufactured in-house, within its own UK production facilities and from its own original designs.

Externally sourced designs include the recently launched Canford Cat7-F (stock code: 31-840) cable which has already been approved by Waves for use with their Soundgrid systems. Modifications have also been made to Canford's existing FSJ multi pair cables to make them more suitable for use within touring applications.

Canford boasts three different workshops across two sites. These include a fibre and assembly workshop at the firms Washington headquarters in the North East, and a metal workshop on the Isle of Portland in Dorset. The assembly workshop at Washington focuses on the production of EMO and Tecpro brands but also manufactures a large range of cable assemblies and breakout solutions. Canford has invested heavily in its Portland operation which offers in-house metalworking, powder coat painting, laser engraving equipment and assembly facilities which produce a wide range of panels, enclosures and rackmount solutions. The fibre workshop at Washington which was set-up two years ago in response to an increasing demand for fibre termination and repairs. This now allows Canford to offer touring customer's relatively short lead times on fibre cable assemblies including both HMA and opticalCON. With respect to opticalCON Canford are one of a limited number of Neutrik approved UK providers.

Canford also appreciates that quite often a standard off the shelf product isn't really suitable due to space constraints or there being a very detailed requirement for a particular touring application. The benefit of having its own workshops means that Canford is well placed to work with customers to develop custom solutions that meet these demands. Recent examples of this type of work include customer specific laser engraved audio splitter panels, hinged rack frames which allow quick access to the inside of a flight case and bespoke pre-wired mains distribution units.

Canford is now in its 42nd year and the team, many of whom have been with the company for decades (just look at the Meet the Team page!), are very proud of a hard earned reputation for both service and quality to all market sectors. The team at Canford also appreciate that as the world moves at such a fast pace that they need to understand and take on-board new and changing technologies.

With this in mind Canford is constantly talking to its touring customers with a view to understanding their future needs and developing or sourcing the solutions required. Current customer led projects include re-engineering and modernising the EMO range of power distribution panels, development of HMA fibre breakout solutions and identifying new and improved cost effective cables suited to live events.

Author: Erika Dobie, UK Business Development Manager

This article is also available in the April edition of Broadcast Film & Video.
Top Related Stories
Click here for the latest broadcast news stories.