Broadcast News
31/08/2011
Humber College Goes Live With Harman's Soundcraft Console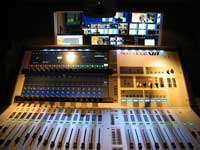 In an effort to provide current and prospective students with the opportunity for a head start in the mobile broadcasting industry, Toronto-based Humber College has invested in a mobile broadcasting truck, equipped with Harman's Soundcraft Vi1 digital console.
Installed by Applied Electronics of Toronto, the Vi1-equipped truck provides students with intuitive, portable technology for mixing audio for broadcast.
Students interested in the highly demanding industry can now enroll in a 2-year Technical Broadcasting Videography programme at Humber College. Every aspect of broadcast is covered in the coursework from traveling to events and setting up live feeds, to mixing and distributing the media. The broadcast truck offers an easily transported classroom/studio on wheels.
"We saw a great opportunity to offer our students a programme specifically designed for the mobile aspect of broadcasting, as it is a craft in high demand around the world," said Michael Wright, Broadcast Manager, Humber College. "We take pride in our Soundcraft Vi1 and the fact that no other university or college programme provides an actual state-of-the-art, high-definition, fully functional broadcasting truck to students."
He added: "The Humber College School of Media Studies' HD mobile is a stepping stone for covering media, sporting and school events on campus and around Canada - all circumstances where digital consoles would be used in a real-time broadcasting situations."
Wright continued: "The students are impressed when they walk into the broadcast truck and see how much we've invested in their education. The Vi1 is impressive in its capabilities and gives the mobile broadcast truck a great look."
For more information on Applied Electronics, please visit:
www.appliedelectronics.com
(BMcN/GK)
Top Related Stories
Click here for the latest broadcast news stories.