Broadcast News
05/08/2019
Cardiff Metropolitan University Produces Industry Ready Broadcasting Students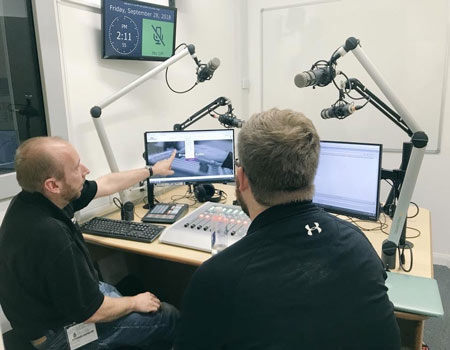 Cardiff Metropolitan University traces its roots back to 1865, when they opened their first school in an old library. Now Cardiff Met is a global, practice-focused, professionally oriented institution, committed to ensuring every student fulfills their potential and make outstanding contributions in their future industries.
Cardiff Met is also one of the leading universities for student sport in the United Kingdom. To highlight the success of their student athletes, and create real life experience for broadcasting students, leaders of the Cardiff Metropolitan Sport Broadcasting Course created unique coursework involving live production, powered by NewTek solutions like the TriCaster®.
Starting from scratch two years ago, Cardiff Metropolitan had no media facilities at all for the upcoming Sport Broadcasting Masters Course. Joe Towns, Senior Lecturer of Sports Broadcasting, and Lukas Burks, Technical Demonstrator of the Sports Broadcast Master's Degree, had a big challenge; to source equipment that was cost effective, versatile, offered a complete production workflow, and overall, was student friendly.
"Our Sports Broadcast course hashtag is #IndustryReady. We want to expose students to as many real-world, authentic scenarios as possible. When our students finish the course, we want them to step straight into entry level media production jobs. To do this, we give them industry tasks, using industry tools. We try to create situations where we can replicate industry scenarios and workflows. TriCaster allows us to do this perfectly, in a live, authentic real-world environment," explained Towns.
Cardiff Metropolitan University students use the TriCaster for their weekly sports show 'Up the Archer', assignments, weekly press conferences with whichever University team has had the biggest results that week, or weekend, and have recently been approached by semi-professional and professional sports teams to stream their press conferences.
"They are asking us because we can stream live to their platforms, and we have found, especially through Facebook, that the algorithm loves live mode. They get much more engagement using us, than filming a press conference on a regular camera, editing it, and uploading it that way. Professional organisations are coming to us for help, and in turn our students are getting jobs out of it," revealed Towns.
80% of students from the first graduating class of the Sports Broadcasting course at Cardiff Met went directly to work in sports broadcasting, securing jobs at companies including Vinco, Sky Sports and BT. The 15 students from this year's class are finishing and reviewing their prospects. Three of them have already accepted full-time jobs.
When embarking on a journey to create a Sports Broadcasting Master's Course at Cardiff Metropolitan University, Joe Towns and Lukas Burks had no idea the capabilities, advancements, and advantages that would become available to them through using NewTek production solutions.
"The industry is moving so quickly that we have to try and invest in the latest technology, so we are properly preparing these students for the future. We strive to be ahead of the game, and we truly think NewTek technology is going to put us, and our students, at the forefront of this rapidly changing industry," concluded Towns.
www.newtek.com
Top Related Stories
Click here for the latest broadcast news stories.