Broadcast News
26/02/2010
GTC Takes To The Air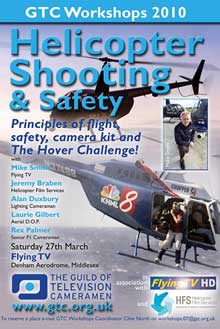 The Guild of Television Cameramen (GTC) have announced they will be holding a workshop on Helicopter Shooting and Safety at the end of March.
The event will be hosted by Broadcaster Mike Smith, Founder and Managing Director of Flying TV which owns and operates the only freelance ready-to-go fleet of television helicopters in Europe. Mike will explain the principles of flight and safety, and will cover everything cameramen need to know about working in the air with gyro-mounted and hand-held cameras.
Jeremy Braben of Helicopter Film Services will show the mounts and helicopters he uses for shooting major movie sequences on formats up to 65 mm and I-Max. The company's Da Vinci 3D rig allows 'hyper-stereo' 3D aerial sequences to be shot using Arri film or Red Cinema HD cameras.
Three GTC members will also speak on the day: Alan Duxbury on the events surrounding his crash while filming with Ray Mears; Laurie K. Gilbert on his worldwide career of aerial shooting in all formats including cine, video and stills; Senior F1 Cameraman Rex Palmer on his experiences of working from helicopters and of ditching at sea.
One member will be selected by draw on the day for the opportunity to fly a helicopter and to hold a hover for 60 seconds.
The workshop on Helicopter Shooting and Safety will take place on Saturday 27th March at Denham Aerodrome, West London.
To reserve places on this workshop, email GTC Workshops Coordinator Clive North on
workshops.07@gtc.org.uk
(BMcN/GK)
Top Related Stories
Click here for the latest broadcast news stories.